General Tso Chicken
Early Summer 2017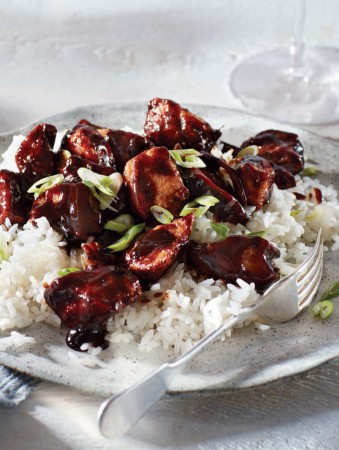 General Tso Chicken
Early Summer 2017
BY: Amy Rosen
Everyone's favourite chicken comes home to roost! A large, weathered wok comes in handy here, but any large, deep skillet will do. The salty-sweet sauce is addictive, and when paired with rice and a stir-fried green, it's the perfect homemade take-away meal.
SAUCE
2 tbsp (30 mL) dark soy
1 tbsp (15 mL) tomato paste
1 tbsp (15 mL) seasoned rice vinegar
2 tbsp (30 mL) Chinese rice wine or dry sherry
2 tbsp (30 mL) brown sugar
¼ cup (60 mL) water or chicken broth
2 tsp (10 mL) cornstarch mixed with
2 tsp (10 mL) cold water

COATING
1 tbsp (15 mL) dark soy sauce
2 eggs, lightly beaten
¼ tsp (1 mL) freshly ground black pepper
2 tbsp (30 mL) cornstarch
1 lb (500 g) boneless, skinless chicken breasts, rinsed, patted dry, cut into bite-sized pieces
3 cups (750 mL) vegetable oil for deep-frying, plus 1 tbsp (15 mL) for stir-frying
About 10 small dried red chili peppers
4 garlic cloves, sliced
1 tbsp (15 mL) minced ginger
1 tsp (5 mL) sesame oil
2 green onions, thinly sliced
1. Combine the sauce ingredients in a bowl, whisking to dissolve the tomato paste and sugar. Set aside.

2. Combine soy sauce, eggs, black pepper and cornstarch. Add chicken and evenly coat.

3. Heat 3 cups (750 mL) oil in a wok to around 370°F (188°C). Carefully add chicken to hot oil, a few pieces at a time, and deep-fry until crispy, about 3 to 4 minutes. Remove and drain on paper towel.

4. When all chicken is fried, drain wok of oil and wipe clean. Heat remaining tbsp (15 mL) oil and, when hot, add dried chili peppers, garlic and ginger. Stir-fry until aromatic, about 30 seconds, then add sauce and stir until sauce thickens, 1 to 2 minutes.

5. Return deep-fried chicken to wok with sauce and toss to coat for 2 minutes. Drizzle with sesame oil, and garnish with green onions. Serve at once with a side of steamed rice.
SHARE