General Tso Chicken Livers
Spring 2016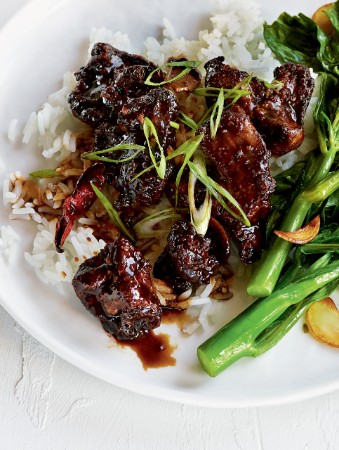 General Tso Chicken Livers
Spring 2016
BY: Amy Rosen
When I made this dish for my guinea pig guests, none of them could tell it was liver they were enjoying, in lieu of chicken. "You could trick kids into eating liver this way," they suggested. Just shout, "Dinnertime! It's a delicious stir-fry! Deep-fried chicken bits in a spicy, sweet and savoury sauce!" Then watch them come running.
SAUCE
2 tbsp (30 mL) dark soy sauce
1 tbsp (15 mL) tomato paste
1 tbsp (15 mL) seasoned rice vinegar
2 tbsp (30 mL) Chinese rice wine or dry sherry
2 tbsp (30 mL) brown sugar
¼ cup (60 mL) water or chicken broth
2 tsp (10 mL) cornstarch mixed with 2 tsp (10 mL) cold water

LIVER
1 tbsp (15 mL) dark soy sauce
2 eggs, lightly beaten
¼ tsp (1 mL) freshly ground black pepper
2 tbsp (30 mL) cornstarch mixed with 2 tbsp (30 mL) water
1 lb (500 g) chicken livers, rinsed, patted dry and cut into bite-sized pieces
3 cups (750 mL) vegetable oil for deep-frying, plus 1 tbsp (15 mL) for stir-frying
About 10 small dried red chili peppers
4 garlic cloves, sliced
1 tbsp (15 mL) minced ginger
1 tsp (5 mL) sesame oil
2 green onions, thinly sliced
Steamed rice and stir-fried greens to accompany
1 Combine the sauce ingredients in a bowl, whisking to dissolve tomato paste and sugar. Set aside.

2 Combine soy sauce, egg, black pepper and cornstarch mixture. Add chicken livers and evenly coat.

3 Heat oil in a wok to around 375°F (190°C). Drop the chicken livers into hot oil, a few pieces at a time, and deep-fry until crispy, about 3 to 4 minutes. (Note: Be very careful, as livers tend to pop and spit oil. Best to use a splatter guard to avoid burns and messy cleanups.) Remove and drain on paper towels.

4 When all livers are fried, drain wok of oil and wipe clean. Heat remaining 1 tbsp (15 mL) oil and, when hot, add dried chili peppers, garlic and ginger. Stir-fry until aromatic, about 30 seconds, then add sauce and stir until sauce thickens, 1 to 2 minutes.

5 Add deep-fried livers back to wok with sauce and toss to coat for a minute. Drizzle with sesame oil, and garnish with green onion. Serve atonce, with a side of steamed rice and stir-fried greens.
SHARE