Gefilte Fish
Printemps 2000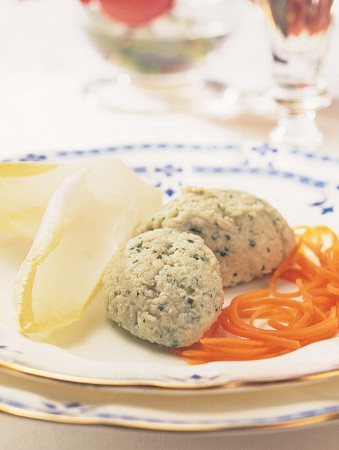 Gefilte Fish
Printemps 2000
BY: Lucy Waverman
My mother makes the best gefilte fish because she mixed different kinds of fish together and treats them rather like a French quenelle, cooking them briefly instead of for the two hours many people use. The result is feather-light gefilte fish with enormous flavour. The traditional mixture is whitefish, carp and pike. This recipe can be made two days in advance.
1 lb (500 g) cod, sea bass or halibut
½ lb (250 g) pickerel or whitefish
½ lb (250 g) tilapia or halibut
1 ½ cups (375 mL) coarsely chopped onion
1/3 cup (75 mL) coarsely chopped parsley leaves
½ tsp (2 mL) saffron, optional
3 tbsp (45 mL) matzo meal
¼ cup (50 mL) cold water
2 egg whites
Salt and freshly ground pepper to taste
4 cups (1 L) fish stock
1 cup (250 mL) thinly sliced onions
1 cup (250 mL) thinly sliced carrots
1 bay leaf
6 peppercorns
1. Remove any skin from fish and cut into large even sized chunks, reserve skin and trimmings.

2. Place onion, parsley, saffron and matzo meal in food processor. Pulse to chop coarsely. Add fish and pulse until ingredients are incorporated. The fish should be finely chopped but not puréed. With machine running, pour water and egg whites down feeder tube. Turn off machine and stir in salt and pepper. Let mixture stand for 1 hour refrigerated.

3. Place fish stock in a shallow wide pot and add sliced onions, carrots, bay leaf, peppercorns and any fish skin or trimmings you have. Simmer together for 5 minutes.

4. With wet hands, form oval balls with ¼ cup (50 mL) mixture. Place fish balls in stock, cover and simmer for 25 to 30 minutes or until fish is cooked. You may have to make it in two batches, if your pot is not big enough.

5. Remove fish to a dish, and pour fish stock over, discarding any bones or skin. Cool and chill for up to 3 days.
Makes about 20 gefilte fish
SHARE