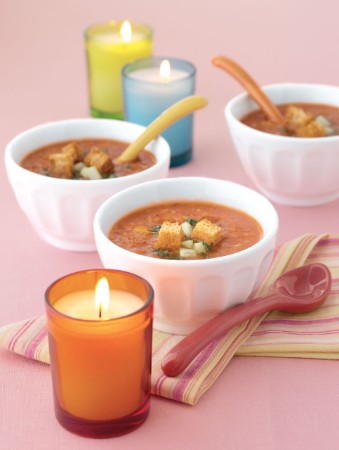 BY: Lucy Waverman
The perfect summer soup for tomato season, gazpacho showcases the sweetness of the tomatoes complemented by sherry and sherry vinegar and just a touch of heat. And it's easy! This Spanish-inspired soup requires no cooking and hardly any chopping. Use good quality canned tomatoes at other times of the year.
2 cups (500 mL) English cucumber, peeled, seeded
and coarsely chopped
4 cups (1 L) tomatoes, fresh or canned, seeded and chopped
½ red pepper, diced
½ yellow or orange pepper, diced
1 tsp (5 mL) chopped jalapeño pepper
2 tbsp (25 mL) sherry or brandy
¼ cup (50 mL) sherry vinegar
2 tsp (10 mL) chopped garlic
½ cup (125 mL) chopped Spanish onion
3 tbsp (45 mL) olive oil
Hot pepper sauce and salt to taste

Garnish
1 cup (250 mL) croutons
½ cup (125 mL) chopped cucumber
¼ cup (50 mL) chopped onion
2 tbsp (25 mL) chopped coriander
1. Place cucumber, tomatoes, red, yellow and jalapeño peppers, sherry, sherry vinegar, garlic, onion and olive oil in food processor or blender.

2. Purée until smooth but with a little texture remaining. Season with hot pepper sauce and salt to taste. Chill for at least 4 hours. Place garnishes in small bowls and let guests help themselves.
SHARE