Golden Tomato and Fennel Gazpacho
Été 2008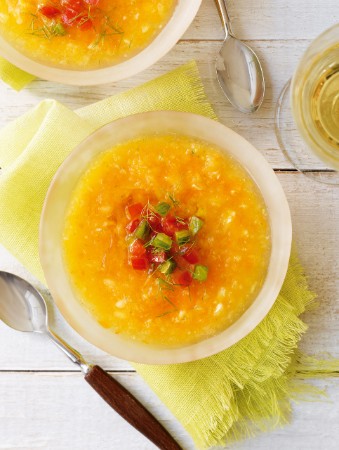 Golden Tomato and Fennel Gazpacho
Été 2008
BY: Jennifer MacKenzie
Add a golden touch to a late summer meal with this refreshing chilled soup. The less acidic yellow and orange varieties of tomatoes are wonderful in combination with the hint of licorice from fennel. You'll want juicy, softer-textured tomatoes such as the beefsteak or Brandywine varieties and if possible, combine with a few firmer, paste type. Look for Goldie, Northern Lights, Wonder Light, Yellow Brandywine and Garden Peach.
4 cups (1 L) chopped yellow and/or orange tomatoes
1 sweet orange or yellow pepper, coarsely chopped
1½ cups (375 mL) coarsely chopped fennel bulb
½ cup (125 mL) coarsely chopped sweet onion
1 clove garlic
3 tbsp (45 mL) extra-virgin olive oil, divided
2 tbsp (25 mL) white wine vinegar
1 tsp (5 mL) granulated sugar (or to taste)
1 tsp (5 mL) salt (or to taste)
Freshly ground black pepper
Chopped fennel fronds
1. Place tomatoes, pepper, fennel bulb, onion, garlic, 2 tbsp (25 mL) of oil and the vinegar in a food processor or blender. Purée until fairly smooth with a little texture remaining. Transfer to a bowl, cover and chill for at least 4 hours or for up to 1 day.

2. Season with sugar, salt and pepper to taste. Ladle into chilled serving bowls, sprinkle with fennel fronds and diced tomatoes and drizzle with remaining olive oil.
SHARE