Garlicky Lamb Chops with Dilled Sun-Dried Tomato Tzatziki & Roasted Pecorino Asparagus
Early Summer 2013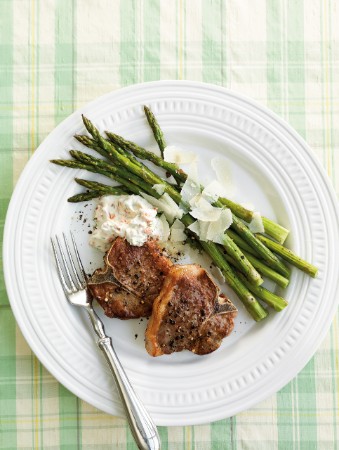 Garlicky Lamb Chops with Dilled Sun-Dried Tomato Tzatziki & Roasted Pecorino Asparagus
Early Summer 2013
BY: Victoria Walsh
This simple rustic meal can be put together any night of the week and yet it's elegant enough for entertaining too. If you can't get your hands on lamb chops, use pork chops in their place. Keep your eye on them because, depending on their thickness, timing may vary and you may need to brown them in batches.
CHOPS
2 tbsp (30 mL) olive oil
2 tsp (10 mL) dried oregano
3 garlic cloves, finely chopped
Generous pinches of salt and pepper
8 bone-in lamb chops, about 2 lbs (1 kg) in total

PECORINO ASPARAGUS
2 bunches asparagus, snapped
1 to 2 tbsp (15 to 30 mL) olive oil
Generous pinches of salt and pepper
½ cup (125 mL) shaved Pecorino, preferably pepper-flavoured

TZATZIKI
2 tbsp (30 mL) chopped sun-dried tomatoes, packed in oil
1 tbsp (15 mL) chopped fresh dill
½ cup (125 mL) store-bought or homemade tzatziki
1 Arrange racks in top and bottom thirds of oven. Preheat oven to 400°F (200°C).
2 Rub 1 tbsp (15 mL) oil, oregano, garlic, salt and pepper all over chops. Spread asparagus out on a baking sheet. Drizzle with enough olive oil to coat. Sprinkle with salt and pepper. Shake the pan to evenly coat.

3 Set a large frying pan (that can go in the oven) over medium-high heat. Coat with remaining 1 tbsp (15 mL) oil for chops. When hot, add chops. Cook for 1 to 2 minutes per side until browned. Adjust heat if needed, being careful not to burn the garlic. If pan is not ovenproof, remove chops to a rack on a baking sheet.

4 Roast chops in top and asparagus in bottom of oven for 8 to 10 minutes or until chops are done as you like and asparagus is tender. Remove each when done. Loosely cover chops and let rest for 5 minutes before serving. Scatter Pecorino over asparagus.

5 Meanwhile, stir tomatoes and dill into tzatziki. Serve chops with asparagus and tzatziki.
SHARE