Garlicky Collard Greens
Holiday 2016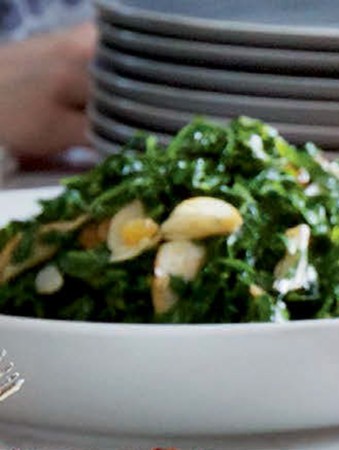 Garlicky Collard Greens
Holiday 2016
BY: Christopher St. Onge
The use of animal fats had fallen out of favour for decades, but in recent years has made a return, so much so that jars of goose fat can be found on the shelves of one of Canada's largest grocers. Its rich deep flavour is a boon to sautéed greens.
1 large bunch collard greens
3 tbsp (45 mL) goose fat
8 cloves garlic, peeled and sliced
⅓ cup (80 mL) yellow raisins
Salt and freshly ground black pepper
1 tbsp (15 mL) apple cider vinegar
1 Trim collards of the tough centre rib. Stack 3 or 4 leaves together at once, roll into a cigar shape, and thinly slice. Wash under cool running water, dry and set aside.

2 Melt goose fat over medium-low in a large skillet. Add garlic, separate as best you can, and fry until light golden, about 3 minutes. Stir in raisins and cook until softened, 1 minute longer.

3 Increase heat to medium and add as much of the collards as you're able, stir until wilted and add more greens, repeating until all are in the skillet. Season with salt and pepper and fry, stirring from time to time, until tender but still toothsome, about 10 to 12 minutes. Sprinkle vinegar over and stir to combine. Serve hot.
SHARE