Garlicky Buttermilk & Thyme Chicken Roast
Spring 2020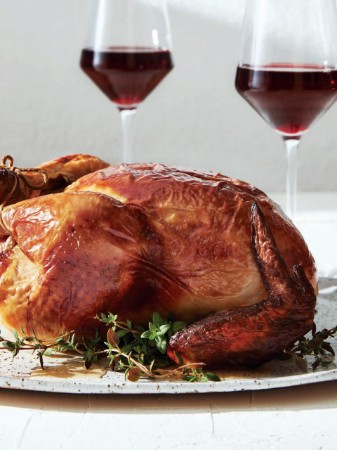 Garlicky Buttermilk & Thyme Chicken Roast
Spring 2020
BY: Christopher St. Onge
Everyone needs a good roast chicken recipe up their sleeves and this one should be yours. The buttermilk marinade carries tang and flavour deep into the meat, while the sugars in the milk aid in browning the skin. It works best with a large chicken—the length of time in the oven ensures a beautiful burnished roast. Serve with your favourite veg or an easy green salad. You don't need to peel the garlic cloves.
2 cups (500 mL) buttermilk
1 large head garlic, cloves separated and lightly smashed
8 branches fresh thyme
1 tbsp (15 mL), plus 1 tsp (5 mL) fine kosher salt
½ tsp (2 mL) coarsely ground black pepper 3 ½ to 4 lbs (1.59 to 1.81 kg) chicken
1 In an extra large resealable plastic bag, combine all but the chicken, seal and give the bag a good shake to dissolve the Open up and slip in the chicken. Squeeze as much air from the bag as possible, reseal and place in fridge for 12 to 16 hours.
2 Arrange a rack in the middle of your oven and preheat to 450°F (230°C).
3 Arrange a flat roasting rack over a baking shee Remove chicken from bag (discard marinade) and, using your hands, scrape off as much of the remaining marinade as you can. Tuck wing tips under chicken and tie legs together using kitchen twine. Set on roasting rack and roast in oven for 20 minutes. Reduce heat to 400°F (200°C) and continue roasting for 20 minutes per pound or until a thermometer inserted into the deepest part of the thigh registers 165°F (74°C) and juices run clear, rotating pan halfway through.
4 Remove from oven and let stand for 15 minutes before
SHARE