Garlic, Black Pepper & Rosemary Rib-Eye Steaks
Summer 2013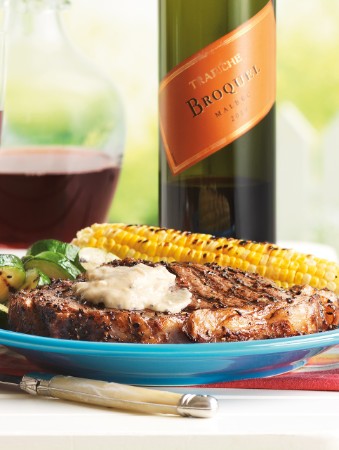 Garlic, Black Pepper & Rosemary Rib-Eye Steaks
Summer 2013
BY: Tonia Wilson-Vuksanovic
This recipe also works wonderfully with any tender cut of grilling steak, such as tenderloin or striploin.
3 tbsp (45 mL) red wine
2 tsp (10 mL) fresh rosemary, finely chopped
1 tbsp (15 mL) black peppercorns, coarsely crushed, or 2 tsp (10 mL) freshly ground
2 tsp (10 mL) garlic, finely chopped
2 tsp (10 mL) olive oil, plus more for brushing
4 rib-eye steaks about 1 inch (2.5 cm) thick, 10 oz (300 g) each
Salt to taste
Roasted Garlic Mayonnaise (recipe follows)
1 In a large plastic freezer bag, mix together red wine, rosemary, black peppercorns, garlic and olive oil. Add steaks and coat all 4 with marinade. Marinate in refrigerator for 4 to 8 hours.

2 Preheat grill to high.

3 Remove steaks and pat dry with a paper towel. Brush lightly with oil and season to taste with salt.

4 Grill steaks on one side for 4 minutes, flip and continue to cook for another 3 to 4 minutes or until desired doneness. Remove from grill and serve with Roasted Garlic Mayonnaise.

ROASTED GARLIC MAYONNAISE

This pungent and earthy condiment is addictive and makes any sandwich sing.

2 heads garlic
2 tsp (10 mL) olive oil
½ cup (125 mL) mayonnaise
1 tsp (5 mL) Worcestershire sauce
¼ tsp (1 mL) black pepper, freshly ground
¼ tsp (1 mL) salt
1 Preheat oven to 350°F (180°C).

2 Slice the tops off the whole heads of garlic to expose just the tips of the cloves, place on a large sheet of foil and drizzle garlic with olive oil. Wrap completely and bake in middle of oven for 1 hour. Once roasted, open package and let cool, remove all the garlic from its skin.

3 Chop the garlic coarsely, then use the side of a large knife to smear it into a smooth paste.

4 Stir to combine the garlic paste, mayonnaise, Worcestershire sauce, black pepper and salt.
SHARE