Garlic Steaks with Buttermilk Mashed Potatoes
Holiday 2012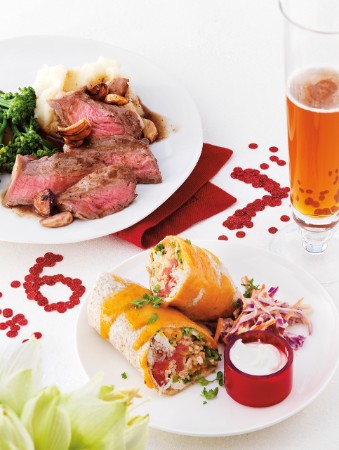 Garlic Steaks with Buttermilk Mashed Potatoes
Holiday 2012
BY: Marilyn Bentz-Crowley
Pan-fried steaks are every bit as good as those sizzled on the barbecue, and there's a bonus too. The fond, which consists of the little brown bits coating the pan after the steaks are removed, is the perfect start for a simple luscious sauce to drizzle over both the potatoes and the steaks. Why use peanut oil? It has a very high smoke point, meaning it can get very hot without smoking or changing in flavour—thus making it my go-to oil for all high heat sautés.
POTATOES
1 to 1¼ cups (250 to 310 mL) buttermilk, natural yogurt or sour cream
2½ to 3 lbs (1.25 to 1.5 kg) baking potatoes,
about 6 to 8 medium
1 tbsp (15 mL) coarse salt
2 tbsp (30 mL) unsalted butter

STEAK
3 strip-loin steaks, each about 12 oz (375 g) and at least 1 inch (2.5 cm) thick
1 to 2 tbsp (15 to 30 mL) peanut or other vegetable oil
8 large garlic cloves, cut in half lengthwise
1½ cups (375 mL) beef broth
¾ cup (175 mL) dry red wine
2 tbsp (30 mL) butter, at room temperature
Salt and freshly ground pepper
1 Measure buttermilk; let sit at room temperature while cooking potatoes. Peel potatoes; place in a large saucepan. Cover potatoes with cold water. (If making ahead, cover pan and let sit for up to 3 to 4 hours at room temperature. When ready to cook, set measured buttermilk on counter to warm to room temperature.)

2 Add salt to potatoes; bring to a boil over high heat. Reduce heat to a simmer. Cook 20 to 25 minutes or until completely softened. Drain; add butter. Using a potato masher, mash thoroughly. Add buttermilk as needed to potatoes to achieve proper texture. Keep warm, covered, over extremely low heat for up to an hour.

3 When potatoes are mashed, trim cold steaks of encircling fat. Heat 1 tbsp (15 mL) oil in a very large frying pan over medium to medium-high heat until very hot and shimmering. Add steaks; scatter garlic cloves around pan perimeter. Sear steaks for 5 to 6 minutes a side, stirring garlic often as cloves become golden brown. Add remaining oil, if needed, when steaks are turned. If cloves begin to get too brown, remove to a plate.

4 Remove steaks from pan to a cutting board; cover with foil. Leave garlic in pan or return if taken out. Pour broth and wine into pan, stirring to get up all the browned bits. Adjust heat to medium-high, boil briskly 7 minutes or more until reduced about half. Slide pan off heat; tip pan slightly so liquid is off to one side. Using a whisk, whisk butter rapidly into sauce to thicken it. Taste; add salt and freshly ground pepper as needed. Do not put sauce back on heat.

5 Diagonally slice steaks into ½-inch-thick (2-cm) slices. (By slicing diagonally, the knife cuts across steak grain making it even more tender.) Heap potatoes on warmed plates; add several strips of beef, a few garlic cloves and lightly drizzle with sauce. Serve with a hot green vegetable such as green beans or broccoli.
SHARE