Garlic Scape & Lardon Carbonara
Early Summer 2021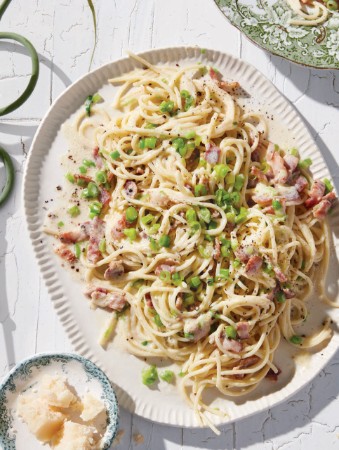 Garlic Scape & Lardon Carbonara
Early Summer 2021
BY: Victoria Walsh
Elevate traditional carbonara by cutting the bacon into French-style lardon strips, and boost the flavour with robust garlic scapes—the flowering stem of hard neck garlic. Delicately garlicky and slightly sweet, scapes bring loads of fresh spring flavour to pleasingly rich carbonara. For even more seasonal oomph, toss a cup of fresh or frozen peas into the boiling pasta just before draining.
3/4 lb (340 g) thick-cut bacon
6 garlic scapes, thickly sliced
3 large whole eggs
2 large egg yolks
1 cup (250 mL) freshly grated
Parmigiano-Reggiano, plus more to taste
1 lemon (optional)
1/4 tsp (1 mL) freshly ground black pepper, plus more to taste
1 lb (455 g) spaghetti
1. Bring a large pasta pot of water to a boil.

2. Cut bacon into 1/4-inch (5-mm) thick strips. Add to a large, deep skillet or frying pan set over medium heat. Cook until crisp, about 15 minutes. Using a slotted spoon, remove to paper towels. Carefully pour off fat into a separate container (discard or refrigerate and save for another use), leaving about 1 tbsp (15 mL) or a thin coating in the pan. Add garlic scapes. Cook, stirring often until softened slightly, about 1 to 2 minutes. Remove pan from heat. Remove 2 tbsp (30 mL) cooked garlic scapes and set aside for garnish.

3. In a medium bowl, whisk eggs with cheese, 1 tsp (5 mL) lemon zest, if you like, and pepper.

4. Season boiling water with salt so it's salty like the sea. Cook pasta until almost al dente. (To do this, reduce the package's suggested cooking time by about 2 minutes.) Carefully scoop out 1 cup (250 mL) of pasta water and set it aside. Drain pasta well.

5. Add pasta to the pan with garlic scapes. Add a splash of pasta water and a squeeze of lemon juice, if you like. Using tongs, toss to coat, or stir to mix. Pour in egg mixture while tossing or stirring. Add bacon. Stir in a little more pasta water just until pasta is evenly coated and glossy. Serve immediately in pasta bowls, sprinkled with more cheese and black pepper, and reserved cooked garlic scapes.
SHARE