Garlic Custards
Autumn 2004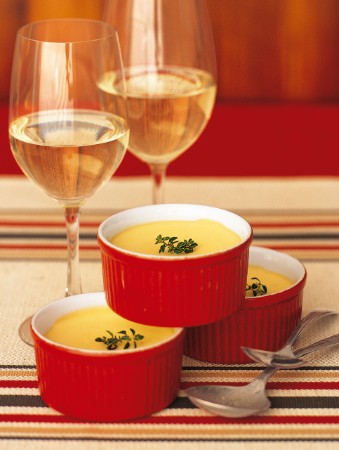 Garlic Custards
Autumn 2004
BY: Jennifer McLagan
This is a great starter or side dish. It could even be served with a salad as a light luncheon dish. As the garlic is blanched, then simmered, its harshness is tamed. These custards can be made ahead and gently reheated in a baking dish filled with boiling water and covered with aluminum foil. This will take about 15 minutes in 325°F (160°C) oven.
12 large garlic cloves, unpeeled
1¼ cups (300 mL) whole milk
1 bay leaf
2 sprigs of thyme
1 tsp (5 mL) kosher salt
4 eggs, whisked
1 cup (250 mL) whipping cream
Freshly ground pepper
Six ½ cup (125 mL) ovenproof ramekins or custard cups
1. Place the garlic cloves in a small saucepan, cover with water and bring to a boil. Boil for 1 minute, then drain and rinse under cold water. Peel and cut them in half. Return them to the saucepan and add the milk, bay leaf and 1 sprig of thyme. Bring to a boil, and then simmer until the garlic is very soft, about 20 to 25 minutes.

2. Preheat the oven to 325ºF (160ºC).

3. Remove the bay leaf and thyme from the milk, and then purée the milk and garlic in a food processor with salt. Push this mixture through a sieve into a bowl, add the eggs, cream and pepper. You will have 3 cups (750 mL) of mixture. Check the seasoning.

4. Place ramekins in a baking dish and divide the mixture between them. Pour boiling water into the baking dish so that it comes at least halfway up the ramekins. Cover the dish with aluminum foil and bake for 20 to 25 minutes until the custards are set but still wobbly in the centre. Remove the ramekins from the baking dish and place a few thyme leaves on each one. Serve warm or at room temperature.
Serves 6 as an appetizer or side dish
SHARE