Garganelli with Ricotta & Blistered Cherry Tomatoes
Temps des Fêtes 2013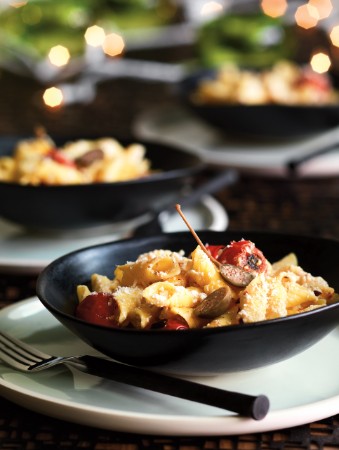 Garganelli with Ricotta & Blistered Cherry Tomatoes
Temps des Fêtes 2013
BY: Lucy Waverman
If garganelli is unavailable, which it sometimes is, use another type of short pasta such as penne or casarecce. Cherry tomatoes are grown in greenhouses in Ontario and have the best taste for use over the winter months. Caper berries, the large pods of the caper plant, are the mature fruit while capers are the immature buds. Milder than capers, the berries are usually brined and make a superb garnish for this dish.
8 oz (250 g) garganelli pasta
3 tbsp (45 mL) extra virgin olive oil
1 cup (250 mL) cherry tomatoes
¼ tsp (1 mL) chili flakes
6 oz (175 g) fresh ricotta, crumbled
½ cup (125 mL) grated Parmesan
Salt to taste
Freshly cracked pepper for garnish
4 caper berries on their stems, sliced in half
1 Cook pasta according to package directions. Drain, reserving ½ cup (125 mL) cooking water. Reserve.

2 Heat 2 tbsp (30 mL) oil in a medium skillet over medium-high. When very hot, add cherry tomatoes. Cook for 2 to 3 minutes, shaking the pan occasionally, until blistered, wilted and tender. Remove to a plate.

3 Add chili flakes to pan and cook for 30 seconds or until aromatic. Reduce heat to medium and add cooked pasta to pan. Stir in ricotta and ¼ cup (60 mL) Parmesan. Add cooking water, a little at a time, stirring until sauce is thick and creamy. Add remaining 1 tbsp (15 mL) oil and blistered tomatoes. Season with salt and pepper.

4 Spoon pasta onto 4 plates and garnish with caper berries, remaining Parmesan and cracked pepper.
SHARE