Parsnip and Potato Pancake
Autumn 2006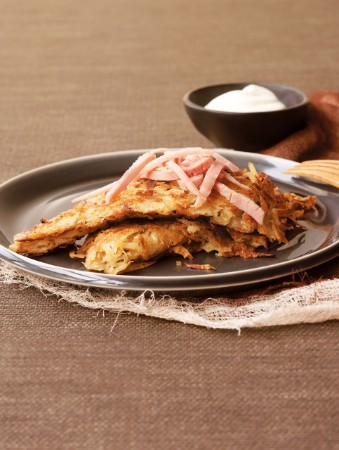 Parsnip and Potato Pancake
Autumn 2006
BY: Jennifer McLagan
This makes an excellent side dish or serve it topped with very thinly sliced smoked ham for lunch or as an appetizer.
3 large parsnips, peeled
2 Yukon Gold potatoes peeled, cut into quarters,
lengthwise
¼ cup (50 mL) chopped parsley
2 tsp (10 mL) kosher salt
2 tsp (10 mL) ground cumin
Freshly ground pepper
2 tbsp (25 mL) olive oil
2 tbsp (25 mL) unsalted butter
1. Using a food processor with a coarse grater blade or a box grater, grate the parsnips. Place them in a large bowl. Grate the potatoes, then tip them onto a clean cotton towel or paper towels and blot any excess moisture, add to the parsnips in the bowl. (You should have about 8 cups/2 L of grated vegetables). Add the chopped parsley, salt, cumin and lots of freshly ground pepper and mix well.

2. In a large 10-inch (25-cm) nonstick frying pan, heat half the oil and the butter over medium heat. Add the parsnip-potato mixture and spread out to form an even layer in the frying pan, patting down gently. Lower the heat to medium-low and cover with a lid. Cook for 20 minutes, lifting the lid several times and wiping off the moisture that has accumulated on the underside.

3. Loosen the edges of the pancake with a spatula and shake the pan to loosen the bottom. Place a flat baking sheet over the pan, and using oven mitts hold the baking sheet and pan together and flip them over in one quick movement so the pancake falls onto the sheet.

4. Add the remaining oil and butter to the pan and then slide the pancake back into the pan, browned-side up, and cook uncovered for another 15 minutes. (If the pancake cracks when landing on the baking sheet or sliding into the pan just flatten or reform it using a spatula.)

5. Slide the cooked pancake onto a board. Wait a few minutes, then cut it into wedges and serve.
SHARE