Fully Loaded Potato Skin Cakes
Winter 2008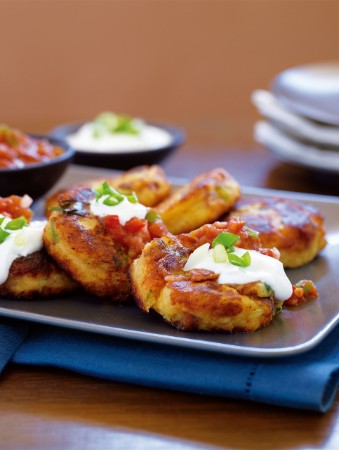 Fully Loaded Potato Skin Cakes
Winter 2008
BY: Michael Fagan & Emily Richards
These cakes have all the flavour of potato skins and can be made ahead, perfect for a crowd. Form and pan-fry the cakes ahead of time, then warm them for about 10 minutes in an oven preheated to 375°F (190°C) before serving. With or without a fork these are hard to stay away from once you start.
12 slices bacon
2 lb (1 kg) Yukon Gold potatoes, peeled and cubed
4 cloves garlic
1½ cups (375 mL) shredded old cheddar cheese
3 green onions, thinly sliced
Pepper to taste
1 egg, lightly beaten
⅓ cup (75 mL) all-purpose flour
⅓ cup (75 mL) vegetable oil (approximately)
Sour cream and salsa (optional)
1. Cook bacon in skillet over medium-high heat, turning occasionally, for about 8 minutes or until crispy. Drain on paper-towel-lined plate; set aside.

2. Place potatoes and garlic in large pot of cold water and bring to boil. Boil for about 20 minutes or until tender. Drain well and return to pot. Using potato masher, mash potatoes and garlic and let cool slightly.

3. Add cheese to pot and mash to combine. Crumble bacon and stir into potatoes.

4. Add green onions and pepper to taste. Add egg and flour and stir until smooth and thick.

5. Dust hands lightly with flour and, using ½ cup (125 mL) of mixture, form patties ½-inch (1- cm) thick and about 2-inches (5-cm) wide and place on parchment-paper-lined baking sheet.

6. Heat some of the oil in large nonstick skillet over medium-high heat and fry patties in batches, about 3 minutes per side, turning once gently with spatula or until golden and crispy. Place on paper-lined plate.

7. Arrange cakes on platter and serve with sour cream and salsa, if desired.
SHARE