Frisée Salad Lyonnaise
Spring 2016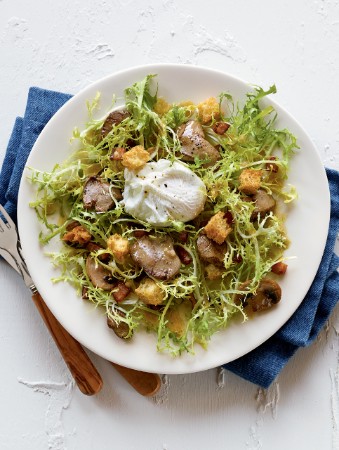 Frisée Salad Lyonnaise
Spring 2016
BY: Amy Rosen
This is a dish where liver comes to shine. Sure, it's accompanied by many delicious ingredients—sautéed mushrooms, bacon, crunchy croutons and an oozing poached egg—but this hearty salad gets its oomph from simply sautéed livers nestled on a perfect bed of frisée, with a classic vinaigrette to match. It's a recipe born in Lyon, one of the greatest culinary cities in the world.
VINAIGRETTE
2 small shallots, minced, about ¼ cup (60 mL)
¼ cup (60 mL) sherry wine vinegar
2 tsp (10 mL) Dijon mustard
Salt and pepper to taste
¾ cup (175 mL) extra virgin olive oil

½ lb (250 g) slab smoked bacon, cut into ¼ inch (5 mm) cubes or lardons
4 slices sourdough bread, crusts removed, bread cut into ½ inch (1 cm) cubes
1 tbsp (15 mL) butter
1 pkg (227 g) sliced white mushrooms
1 tbsp (15 mL) olive oil
1 lb (500 g) chicken livers, rinsed, patted dry and cut into bite-sized pieces
2 tbsp (30 mL) white vinegar
4 large eggs
2 large heads frisée lettuce, cored, thicker outer leaves removed, remaining leaves separated, cleaned and dried
Salt and pepper to taste
1 To make vinaigrette, add chopped shallots, sherry vinegar, Dijon and seasoning in a small bowl. Gradually whisk in oil until dressing thickens. Set aside.

2 Add bacon to a large frying pan over medium heat and fry for 10 minutes, stirring often, or until bacon has rendered most of its fat and is browned on all sides. Remove bacon, set aside, and discard all but 1 tbsp (15 mL) of bacon fat from pan. Reduce heat to medium-low, add bread cubes to pan and toss with bacon fat. Fry croutons until toasty, about 5 minutes, then remove from pan and set aside.

3 Wipe pan clean, add butter and mushrooms and cook over medium-high for 5 to 7 minutes or until mushrooms are lightly browned. Seasonwith salt and pepper.

4 Wipe pan clean again and heat 1 tbsp (15 mL) olive oil over medium heat. Add chicken livers, lightly season with salt and pepper and sauté until browned and cooked through, about 5 to 6 minutes. Remove livers from pan and set aside.

5 To make poached eggs, bring a medium saucepan of water to a simmer and add white vinegar. One at a time, crack eggs into a small bowl or ramekin, create a clockwise vortex in the water with a spoon and gently ease eggs into vortex, one at a time, gently but quickly. Poach eggs for 3 minutes. Line a plate with paper towel and use a slotted spoon to carefully lift poached eggs onto the plate to drain.

6 To a large bowl add the frisée leaves, chicken livers, mushrooms, lardons and croutons. Toss gently with about half of the dressing, then pile onto 4 plates. Add a warm egg to the top of each salad, and season with salt and pepper. Serve with remaining dressing on the side, plus the rest of that sourdough loaf for dipping in that egg yolk.
SHARE