Fried-Fish Hoagie with Pickled Beets
Summer 2015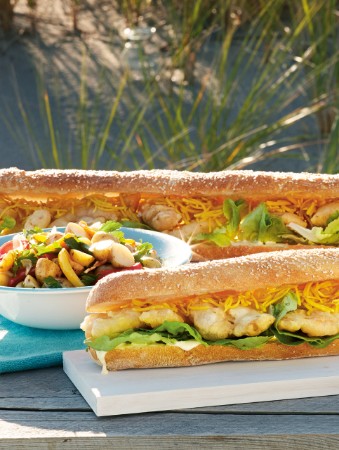 Fried-Fish Hoagie with Pickled Beets
Summer 2015
BY: Christopher St. Onge
Both wild perch and rainbow trout are perfect in this satisfying sandwich. Use whichever you can get your hands on, or prefer. Slathered with a fruity and spicy mayonnaise, this sandwich can be made as fiery as you like by dialing up the amount of hot sauce used. Look for a hot sauce that lists a fruit first in its ingredients list, however, as examples that list chilis first will likely be very hot.
QUICK PICKLED BEETS
1 cup (250 mL) cider vinegar
4 sprigs tarragon
1½ tsp (7 mL) salt
1½ cups (375 mL) water
6 medium raw yellow beets, peeled and cut into matchsticks
3 shallots, thinly sliced

SWEET & SPICY MAYO
1½ cups (375 mL) mayonnaise
2 to 4 tbsp (30 to 60 mL) fruity habanero or Scotch bonnet hot sauce
1 tsp (5 mL) coarsely ground black pepper

10 boneless skinless trout fillets,
5 to 6 oz (150 to 175 g) each, or 20 boneless, skinless perch fillets, 2 to 3 oz (60 to 90 g) each
Vegetable oil for deep frying
Ice cubes
1½ cups (375 mL) flour
1 tbsp (15 mL) baking powder
2 tbsp (30 mL) cornstarch
1½ tsp (7 mL) salt
2¼ cups (560 mL) cold water
10 submarine-style sandwich buns,
6 inches (15 cm) long
Bibb lettuce leaves
1 To make quick pickled beets, bring vinegar, tarragon and salt to a boil in a medium saucepan; remove from heat and steep until cooled to room temperature. Stir in water.

2 Alternating between beets and shallots, pack vegetables into a 4-cup (1-L) glass jar (or other non-reactive dish). Pour vinegar mixture, including tarragon, over (you may not require all of the liquid). Cover and refrigerate for at least 6 hours, but not longer than 24 hours.

3 Stir together the mayonnaise, hot sauce and black pepper; cover and refrigerate until ready to use (refrigerated mayonnaise will keep for a week).

4 If using trout, cut each fillet into 2 roughly square pieces; leave perch fillets whole. Pat fish pieces dry.

5 Heat a 3-inch (8-cm) depth of vegetable oil in a large deep saucepan (or deep-fryer according to manufacturer's instructions) and bring to 400°F (200°C).

6 Once oil is hot, add 10 to 12 ice cubes to a large mixing bowl; nest a medium mixing bowl into larger one on top of ice. Whisk together flour, baking powder, cornstarch and salt in the smaller bowl. Add water and stir to combine (some lumps will remain).

7 Working in batches, dunk fish pieces into batter, transfer to hot oil, and fry for 3 to 4 minutes or until golden. Using a slotted spoon, transfer to a paper-towel-lined baking sheet to drain.

8 To assemble sandwiches, drain quick pickled beets in a colander and discard tarragon. Spread bottom and top insides of buns with Sweet & Spicy Mayo. Line bottom with lettuce, tearing to fit as necessary. Top each with 2 pieces of fish and a handful of the pickled beets. Top with bun and serve while hot and crunchy.
SHARE