Fried Vegetables
Winter 2016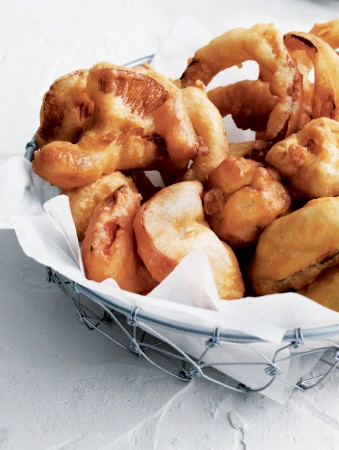 Fried Vegetables
Winter 2016
BY: Lucy Waverman
A great side dish or even an hors d'oeuvre served with a dip. (Try the Beer Aïoli Dip, recipe below.) Do not dust them with flour before dipping in the batter. They are crisper if you don't.
Vegetable oil for frying
8 small shiitake mushrooms, stems removed
8 oyster mushrooms, trimmed
4 button mushrooms
1 zucchini, cut on diagonal in ¼ inch (5 mm) slices
1 cooking onion, cut in ½ inch (1 cm) rings
1 small cauliflower, separated into small florets
1 red pepper, cut in 1½ inch (4 cm) chunks
All-Purpose Beer Batter (recipe follows)
Salt
1 Heat 2 inches (5 cm) of oil in a wok or deep pot to 350°F (180°C). Immerse vegetables in beer batter. Working in batches, use tongs to slip the vegetables into the oil. Fry for 1 to 2 minutes or until batter is golden brown and vegetables are cooked. Remove with a slotted spoon, letting excess oil drain over pan for a few seconds, then place on paper towel. Season with salt to taste.

2 Serve with Beer Aïoli Dip, or your dip of choice.
ALL-PURPOSE BEER BATTER FOR FRIED FISH, CHICKEN AND VEGETABLES

It's very important when you're deep-frying to make sure the batter is kept very cold so it becomes crisp when cooked. Refrigerate before using and pop an ice cube in just before dipping the ingredients into the batter.

ALL-PURPOSE BEER BATTER

1¼ cups (310 mL) India Pale Ale
1¼ cups (310 mL) all-purpose flour
¼ cup (60 mL) cornstarch
1 egg
1½ tsp (7 mL) sea salt
1 ice cube

SEASONED FLOUR
½ cup (125 mL) flour
1 tsp (5 mL) salt
Freshly ground pepper
1 Whisk together pale ale, flour, cornstarch, egg and salt in a large bowl. Let sit refrigerated for 15 minutes. Don't worry about lumps. Add ice cube into batter just before coating ingredients.

2 Season ½ cup (125 mL) flour with salt and pepper, and place on a plate for dredging.
Makes about 3 cups (750 mL) batter
BEER AÏOLI DIP

This dip has everything in it for a great dip for fries—citrus, spice, fresh herbs and a zesty mayonnaise-beer base. It will make ketchup a thing of the past. It also pairs well with vegetables and fried chicken.

1 cup (250 mL) mayonnaise
¼ cup (60 mL) pilsner
1 tsp (5 mL) chopped garlic
1 tbsp (15 mL) lemon juice
1 tsp (5 mL) grated lemon zest
½ tsp (2 mL) Sriracha
¼ cup (60 mL) olive oil
2 tbsp (30 mL) chopped parsley
Salt and freshly ground pepper
1 Whisk together mayonnaise and pilsner. Add garlic, lemon juice, zest and Sriracha. Slowly beat in olive oil. Stir in parsley and season with salt and pepper. Serve with vegetables
SHARE