Fried Gefilte Fish
Printemps 2014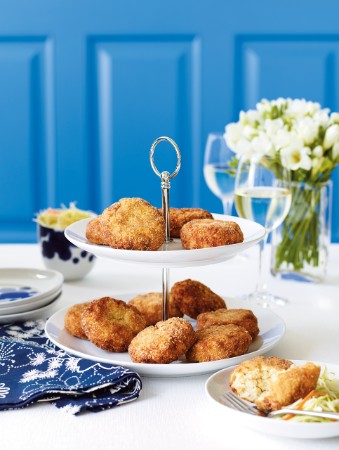 Fried Gefilte Fish
Printemps 2014
BY: Lucy Waverman
My Jewish heritage living in Scotland was to have gefilte fish fried, not boiled, for Passover. Here no one makes these but they are a perfect fluffy fishcake for multiple uses. You can use panko (if it is not Passover) as the coating. They make a great snack food. They travel well on picnics too. Serve hot with horseradish or at room temperature with coleslaw, pickled cucumbers or salad. The mixture of fish is different from the one made for boiled gefilte, lighter and full of flavour.
1 medium onion, chopped
2 eggs
2 tsp (10 mL) salt
Pinch of white pepper
2 tsp (10 mL) sugar
1 tbsp (15 mL) oil
1½ cups (375 mL) matzoh meal
1 lb (500 g) haddock fillet, skinned
1 lb (500 g) cod fillet, skinned
Salt and pepper to taste
Vegetable oil for frying
1 Combine onions with eggs, seasonings, sugar and oil in a food processor. Process until reduced to a smooth purée. Pour into a large bowl and stir in ½ cup (125 mL) matzoh meal. Leave for 30 minutes until absorbed.

2 Cut the fish into 1-inch (2.5-cm) chunks. Place half the fish in the food processor, and process for 5 to 10 seconds until the fish is finely chopped but not puréed. Transfer into a bowl and repeat with remaining fish. Stir fish into matzoh mixture. The mixture should be firm enough to shape into a soft patty or ball. If it feels too soft, stir in 1 or 2 tbsp (15 or30 mL) more matzoh meal. Leave for half an hour on counter or refrigerate overnight.

3 Scoop ⅓ cup (80 mL) portions of mixture, and form into patties about 2 inches (5 cm) wide and 1 inch (2.5 cm) high. If the mixture sticks to your hands, rinse under cold water and keep hands wet.

4 Scatter remaining matzoh meal on a plate. Season with salt and pepper. Gently coat patties (see TIP).

5 Pour enough oil to reach ½-inch (1-cm) depth in a deep skillet. Heat until hot enough to brown a 1-inch (2.5-cm) cube of bread in 30 seconds. Cook patties in batches without overcrowding the skillet for 3 minutes per side or until deep golden and cooked through.

6 Transfer patties onto paper towels. Allow to cool for 10 minutes before serving. To reheat, place in 350°F (180°C) oven for 10 to 15 minutes or until hot.
TIP The fish can be cooked immediately or frozen raw as long as it hasn't been previously frozen. To freeze raw, arrange the patties side by side on a tray lined with parchment paper or foil. When the tray is full, cover with a layer of paper or foil and make another layer on top. Put the tray in the freezer uncovered.
SHARE