Fried Fish with Mango Slaw
Winter 2012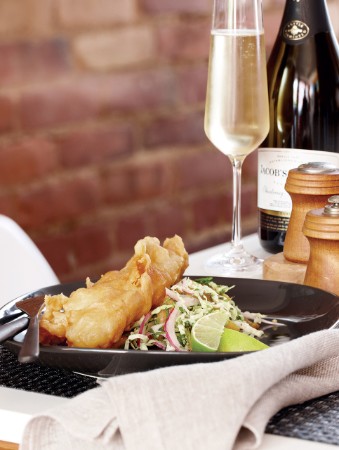 Fried Fish with Mango Slaw
Winter 2012
BY: Lucy Waverman & James Chatto
This is a homemade version of traditional British fried fish but with a twist as it's served with a spicy mango slaw instead of chips. Use the batter as soon as the baking powder is added, to ensure crispness. If deep-frying is a technique you fear, remember these simple tips: You don't need vast quantities of oil.

Use a deep pot or a wok for your frying. Fry in small batches to keep the oil at a constant temperature. Use a slotted spoon or strainer to remove the food and shake over the pot of oil before draining on paper towels. Well drained and fried at the proper temperature, food does not absorb much oil. We tried all three recommended fish and the haddock was our favourite.
2 lbs (1 kg) haddock, cod or halibut
Vegetable oil for deep-frying
1 cup (250 mL) cold water
2 tbsp (30 mL) vegetable oil 
1 tsp (5 mL) kosher salt
1½ cups (375 mL) flour
1 tsp (5 mL) baking powder
Salt and freshly ground pepper
1 Cut fish into approximately 2 x 3-inch (5 x 8-cm) pieces.

2 Heat about 2 inches (5 cm) of oil in a wok or deep pot to 375°F (190°C) or until a cube of bread turns brown in 15 seconds.

3 Combine cold water, oil and salt in a mixing bowl. Gradually whisk in 1 cup (250 mL) flour. Stir in baking powder immediately before using, making sure that it is evenly blended.

4 Season remaining ½ cup (125 mL) flour with salt and pepper and place on a plate. Dredge fillets in seasoned flour and dip them, 1 at a time, in the batter.

5 Drop fillets into hot oil, cooking for 5 to 7 minutes, or until puffed and brown and fish is cooked. Drain fillets on paper towels. Season with salt to taste. Serve with Spicy Mango Slaw.

Serves 4


SPICY MANGO SLAW
You can serve the fish directly on top of the slaw or on the side.

4 cups (1 L) slivered Napa cabbage
1 large mango, peeled and julienned
1 cup (250 mL) thinly sliced red onion
½ cup (125 mL) mint leaves, slivered

DRESSING
2 tsp (10 mL) finely chopped garlic
⅓ cup (80 mL) fresh lime juice
2 tsp (10 mL) finely chopped, seeded green chili (or to taste)
2 tbsp (30 mL) chopped coriander
2 tbsp (30 mL) fish sauce
2 tsp (10 mL) golden brown sugar
1 Combine Napa cabbage, mango, onion and mint in bowl or on platter.

2 Whisk together dressing ingredients and toss with slaw just before serving.
SHARE