Fried Fish Cutters
Winter 2013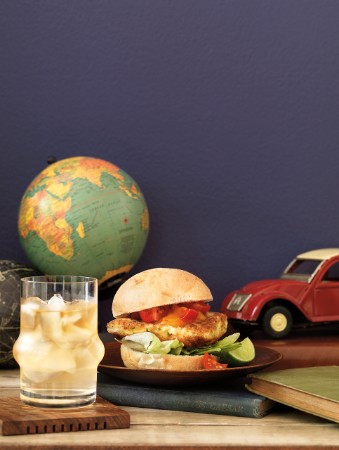 Fried Fish Cutters
Winter 2013
BY: Lucy Waverman
Barbados Fish Cutters are simply grilled fish with condiments on a bun. They are available all over Barbados, especially at lunchtime served with rum punch. Traditionally flying fish would be used but I have substituted halibut, although haddock would be a good choice, too. "Bajan" relates to anyone or anything that is from Barbados. Bajan hot sauce is fruitier and more textured than some, but use whatever you have at hand. As tomatoes are not at their best at this time of the year, I have substituted a mix of cherry tomatoes.
4 pieces halibut, 4 oz (125 g) each
1 large lime, cut in half
Salt to taste
1 egg beaten
1 tbsp (15 mL) Bajan hot sauce or other
2 tbsp (30 mL) chopped chives
2 tbsp (30 mL) chopped parsley
Salt and freshly ground pepper
½ cup (125 mL) flour
½ cup (125 mL) fine dry bread crumbs
Oil for frying
1 cup (250 mL) chopped cherry tomatoes (about 20)
4 soft rolls
4 leaves iceberg lettuce

GARNISH
1 lime, quartered
1 Place fish on a plate, squeeze some lime juice overtop and season with salt.

2 Beat together egg, hot sauce, chives and parsley in a shallow bowl. Season with salt and pepper.

3 Combine flour and bread crumbs on a plate and season with salt and pepper.

4 Dip fish into egg mixture to coat, then dredge in flour mixture. Set aside.

5 Heat 1/8 inch (3 mm) oil in a skillet over medium-high heat. Add fish and fry for 3 minutes a side or until golden and cooked through.

6 Salt the cherry tomatoes, then place fried fish on a bun. Top with lettuce and a spoonful of cherry tomatoes and more hot sauce. Serve with lime wedges.
SHARE