Fried Beef Bulgogi
Spring 2010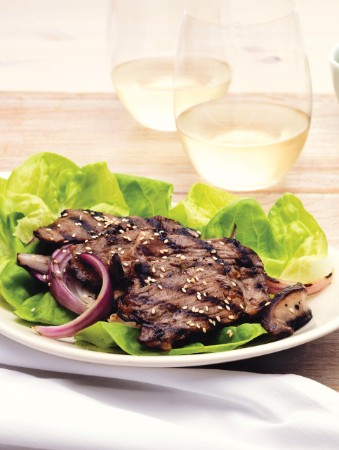 Fried Beef Bulgogi
Spring 2010
BY: Lucy Waverman
Asian pear tenderizes the meat in this recipe. Serve on a bed of Boston lettuce with a side of steamed rice if not making our whole menu. Wrap some rice and meat in the lettuce and pop into your mouth. If you want to spice it up, serve with the Kim Chi Fried Rice instead of steamed. If you do not have a grill pan, use a nonstick skillet to fry the meat.
1 lb (500 g) New York sirloin steak, trimmed of fat

Marinade
3 tbsp (45 mL) soy sauce
2 tbsp (25 mL) mirin (Japanese sweetened rice wine)
1 tbsp (15 mL) rice wine vinegar
½ cup (125 mL) peeled and grated Korean or Asian pear
¼ cup (50 mL) grated onion
2 green onions, finely chopped
1 tbsp (15 mL) chopped garlic
1 tbsp (15 mL) chopped ginger
3 tbsp (45 mL) sugar
1 tsp (5 mL) Korean red pepper paste
1 tbsp (15 mL) sesame oil
Salt and freshly ground pepper
1 cup (250 mL) thickly sliced portobello mushrooms
1 red onion, halved and thickly sliced
3 tbsp (45 mL) vegetable oil
1 tbsp (15 mL) sesame seeds
1. Place meat in the freezer for 1 hour or until firm enough to slice very thinly. Thinly slice beef on a bias across the grain. Reserve.

2. Combine soy sauce, mirin, rice wine vinegar, Korean pear, grated onion, green onion, garlic, ginger, sugar, red pepper paste, sesame oil and salt and pepper. Mix well and reserve in a large bowl.

3. Place beef in the bowl with marinade and toss to coat. Cover with plastic wrap and let marinate in the refrigerator for 4 hours.

4. Combine portobello mushrooms, red onion, 2 tbsp (25 mL) vegetable oil and salt and pepper. Reserve.

5. Heat 1 tbsp (15 mL) remaining vegetable oil in a grill pan over high heat until pan begins to smoke. Add vegetables to pan and cook for 3 to 4 minutes or until browned and cooked through. Remove to serving dish, then add beef to grill pan and cook 1 to 2 minutes a side or until tender. Add an extra 1 tbsp (15 mL) oil if needed. Place beef over the vegetables and pour over any juices. Sprinkle with sesame seeds.
SHARE