Fresh Winter Salad
Winter 2007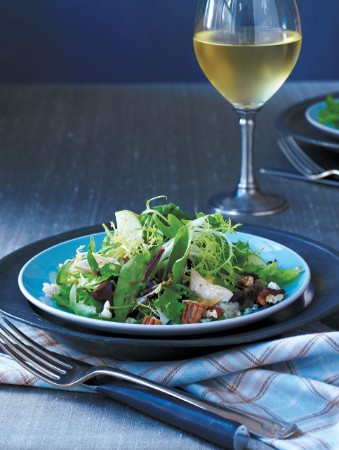 Fresh Winter Salad
Winter 2007
BY: Heather Trim
We need our greens, especially in the winter. This hearty salad will satisfy for dinner.
¼ tsp (1 mL) Dijon mustard
¼ cup (50 mL) homemade or storebought vinaigrette
5 cups (1.25 L) mesclun mix
1½ cups (375 mL) shredded cooked deli chicken
½ unpeeled green apple or pear, cored and thinly sliced
2 tbsp (25 mL) favourite nut, coarsely chopped
¼ cup (50 mL) favourite blue cheese, crumbled
1. Whisk Dijon into dressing.

2. Toss greens with chicken, apple, nuts and cheese in a salad bowl.

3. Toss with as much dressing as needed.
SHARE