Fresh Rosemary Pork Roast with Vidalia Onions & Rosé Wine Sauce
Début de l'été 2011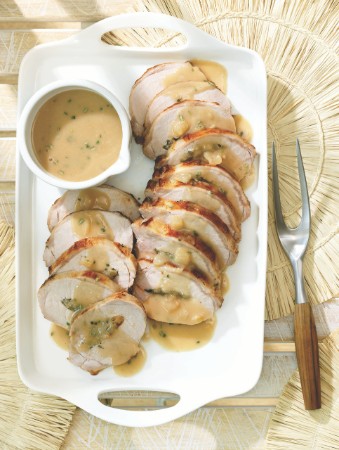 Fresh Rosemary Pork Roast with Vidalia Onions & Rosé Wine Sauce
Début de l'été 2011
BY: Marilyn Bentz-Crowley
Growing rosemary as I do, and bringing it indoors for the winter, allows me to observe that fresh rosemary is indeed superior to dried. The fresh leaves are tender with well-rounded flavour. Pop a long sprig into water to root; then move to a pot in a sunny window, watering often. Brining lean boneless loin ensures that the roast is juicy and tender.
BRINE
8 cups (2 L) cold tap water, divided
¼ cup (50 mL) salt
¼ cup (50 mL) granulated sugar

ROAST
2 to 3 lbs (1 to 1.5 kg) well-trimmed boneless pork loin roast
1 tbsp (15 mL) olive oil
3 cups (750 mL) diced Vidalia or other sweet onion
2 large cloves garlic, minced
2 tbsp (25 mL) chopped fresh parsley
1 tbsp (15 mL) minced fresh rosemary
½ tsp (2 mL) freshly ground black pepper
¼ tsp (1 mL) salt

SAUCE
½ cup (125 mL) all-purpose flour
1 to 2 tbsp (15 to 25 mL) butter
3 cups (750 mL) chicken broth
½ cup (125 mL) rosé wine
1 tsp (5 mL) finely minced fresh rosemary
1. Heat 2 cups (500 mL) water mixed with salt and sugar until very warm; stir to dissolve salt and sugar. Meanwhile, place loin in a large casserole dish big enough to hold it and water, such as a 13 x 9-inch (3 L) dish; pour in remaining cold tap water. Add warm sugar and salt water. Cover; refrigerate 8 to 12 hours. (If longer time is needed, refrigerate in brine for up to 12 hours; then drain. Return to drained dish; refrigerate until needed, up to half a day.)

2. Heat oil in a medium frying pan over medium heat until hot. Add onion; reduce heat to medium-low. Sauté, uncovered, for 15 to 20 minutes or until onion is lightly golden and much reduced in volume. Stir in garlic. Remove from heat; put a third of onions into a small dish. Reserve these for sauce. Mix parsley, rosemary, black pepper and salt into remaining onions.

3. Preheat oven to 350°F (180°C).

4. Drain loin; discard brine. Pat dry with paper towels. Lay roast on cutting board. Horizontally stab a boning knife into centre of 1 end, carefully working knife back and forth to form a slash that comes within 1 inch (2.5 cm) of either side. Turn roast and do same from other side. Work knife carefully so slash goes completely through length of loin.

5. Switching ends back and forth as needed, stuff rosemary-onion mixture into loin slit. (Roast can be covered and refrigerated for up to half a day.)

6. Heat a large heavy frying pan capable of going into the oven (cast iron is best) until hot, over medium-high heat. Beginning fat-side down, brown pork about 2 minutes per side. Place in oven, fat-side up.

7. Bake 50 minutes; if roast is browning too much, loosely cover with a piece of foil. Check internal temperature with an instant-read thermometer. As needed, continue baking another 10 to 20 minutes or until meat thermometer reads 145° to 150°F (63° to 65°C). (Allow additional roasting time for made ahead chilled stuffed roast.) Remove roast to cutting board; tent with foil while making sauce.

8. Sprinkle flour over pan drippings; add butter as needed to mostly dissolve flour. Place pan over medium heat; slowly stir in a mixture of broth and wine. Mixture will be lumpy.Bring to a boil; let bubble several minutes or until desired thickness. Season with salt and freshly ground black pepper to taste. Stir in any juices released by tented roast.

9. Strain gravy, discarding solids; stir in reserved onions and final tsp (5 mL) of rosemary. Taste and add seasonings as needed. Slice roast a generous ¼ inch (5 mm) thick, laying slices as cut onto warm serving plates. Drizzle with a bit of sauce; pass remaining sauce at the table.


SHARE