Fresh Oysters on the Half Shell with a Watermelon Mignonette
Summer 2018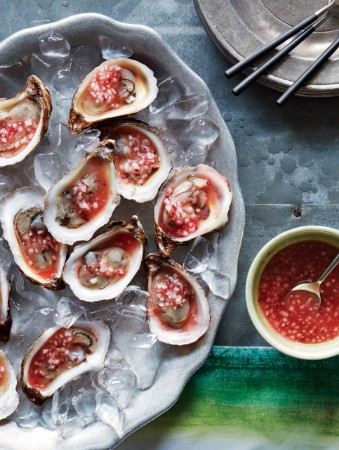 Fresh Oysters on the Half Shell with a Watermelon Mignonette
Summer 2018
BY: Signe Langford
Some oysters taste remarkably like melon and cucumber, others are more metallic and briny. Either way, watermelon is a delightfully surprising complement, while radish adds a bit of bite. This recipe makes enough mignonette for a party of 10 to 15 oyster-lovers. Leftover mignonette will only last a day or two in the fridge, so invite the gang over for oysters and serve with a green side salad tossed with a vinaigrette made from the mignonette whisked with an equal amount of olive oil.
2 cups (500 mL) coarsely chopped watermelon, seedless or seeded
2 tbsp (30 mL) sherry vinegar or raspberry vinegar
3 radishes, minced
¼ tsp (1 mL) fine sea salt
¼ tsp (1 mL) black pepper
Ice cold oysters, shucked, as many as you'd like, up to about 100
Beet or radish microgreens to garnish, if desired
1. Add the coarsely chopped watermelon to a blender or food processor: blend on high to liquefy.

2. Into a medium non-reactive or glass bowl, add the vinegar, radishes, salt and pepper and liquified watermelon. Stir to combine. Transfer to a serving glass or dish and set aside in the fridge to chill for about 30 minutes.

3. To serve, top each oyster with about 1 tsp (5 mL) of the mignonette. If desired, top that with a microgreen or 2. Or simply bring the shucked oysters and dish of mignonette to the table and let guests enjoy as much or as little mignonette as they please. Serve immediately.
Makes 2 cups (500 mL), enough for approximately 100 oysters
SHARE