French Onion Soup
Winter 2010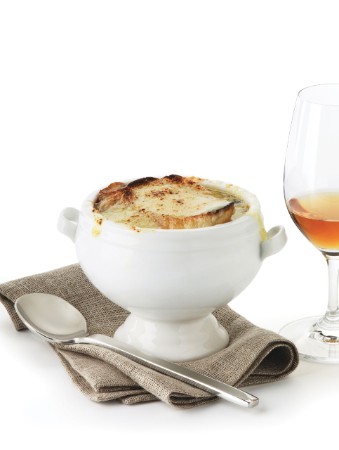 French Onion Soup
Winter 2010
BY: Jennifer McLagan
Lighter than the traditional onion soup, this soup is slightly sweet and full of onions, making it a perfect match to sherry.
2 lbs (1 kg) sweet onions
¼ cup (50 mL) unsalted butter
1 cup (250 mL) dry white wine
Sea salt and freshly ground pepper
4 cups (1 L) homemade or low-sodium chicken stock
6 baguette slices
4 oz (125 g) French mountain cheese, (Tomme de Savoie or Beaufort)
1. Preheat the oven to 425°F (220°C).

2. Cut the onions in half lengthwise and slice thinly.

3. Place a roasting pan over medium heat, add the butter and when it is melted, stir in the onions to coat with the butter. Pour in the wine and season well with salt and pepper. Place the pan in the oven and cook for about 1 hour, stirring from time to time. The onions should be softened but not coloured.

4. Transfer the cooked onions to a large saucepan and then deglaze the roasting pan with 1 cup (250 mL) of the chicken stock. Add this liquid to the saucepan with the remaining stock and bring to a boil, cover and simmer or 10 minutes.

5. Meanwhile preheat the broiler, toast the baguette slices lightly and finely grate the cheese. Check the soup for seasoning and then spoon into heatproof onion soup bowls. Set the bowls on a baking sheet and top each bowl with a toasted baguette slice, then the cheese. Broil until the cheese is melted and bubbling. Serve immediately.
SHARE