French Onion Dip & Kettle Chips
Early Summer 2018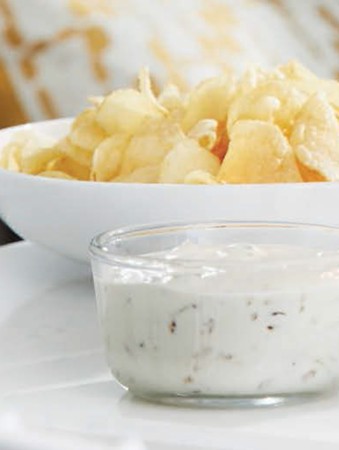 French Onion Dip & Kettle Chips
Early Summer 2018
BY: Amy Rosen
In Spain, the preferred way to wind down after work is a glass of wine and salty kettle chips. With this rich, homemade French onion dip paired with a dry rosé, we're putting a twist on the cinq-a-sept.
1 tbsp (15 mL) butter
1 tbsp (15 mL) olive oil
2 medium cooking onions, finely sliced, about 2 cups (500 mL)
½ tsp (2 mL) sugar
¾ tsp (4 mL) sea salt
½ cup (125 mL) 2% Greek yogurt
1 cup (250 mL) full-fat sour cream
½ cup (125 mL) mayonnaise
½ tsp (2 mL) garlic powder
Pepper to taste
Bag of kettle chips for dipping
1. In a large skillet over medium heat, add butter and oil, heat and add onions, sugar and salt. Sauté for 10 minutes, stirring often, then lower heat to low and continue cooking until the onions are deeply caramelized, about 15 to 20 minutes more. Remove from heat and set aside to cool.

2. In a medium bowl, mix the yogurt, sour cream, mayonnaise, garlic powder and pepper together until smooth. Roughly chop the caramelized onions and stir into the dip mixture. Refrigerate for at least 30 minutes, and then stir again before serving with your favourite chips or fresh vegetables.
SHARE