French Fries with Poutine
Spring 2005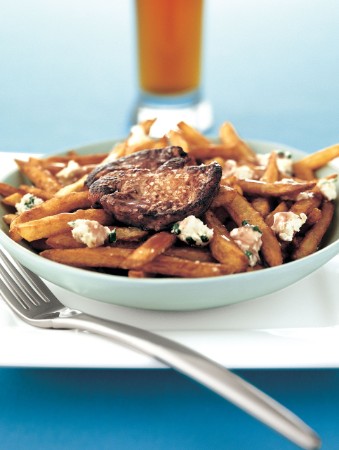 French Fries with Poutine
Spring 2005
BY: Lucy Waverman
This recipe from J.P. Challet, executive chef of the sophisticated and elegant The Fifth restaurant in Toronto, is the ultimate in sophisticated fries. Served with foie gras, goat cheese and gravy it is the perfect little tapas. I place it all on a platter and give people little plates and forks to serve themselves. There is never any left-you could double the quantity and still have none left over. It is amazingly good.
6 Yukon Gold potatoes
1 tbsp (15 mL) butter
2 diced shallots
6 oz (175 g) fresh Ontario goat cheese
1 bunch chives, chopped
Salt and freshly ground pepper
Vegetable oil for deep frying
8 oz (250 g) fresh foie gras
1 cup (250 mL) Bordelaise Sauce (recipe follows)
1. Slice potatoes into thin slices. Pile a few slices on top of each other and cut into thin strips.

2. Bring a large pot of water to boil, immerse fries and boil for 30 seconds. Drain immediately and place on a dish-towel-lined tray to dry them. Refrigerate for 1 hour or longer.

3. Heat butter in skillet over medium heat and cook shallots until softened but not coloured. Place goat cheese in bowl and stir in shallots, chives and black pepper.

4. Heat oil in wok or deep fryer to 300ºF (150ºC) or until a cube of bread turns golden in 35 seconds. Add potatoes in batches (oil should bubble gently). Cook about 6 to 7 minutes or until soft but not coloured. Drain well and place on paper

5. Reheat oil to 350ºF (180ºC) or until a cube of bread browns in 15 seconds. Fry potatoes in batches for another 2 to 3 minutes or until golden coloured. Put in paper-towel-lined bowl and toss with salt.

6. Cut the foie gras in four ½-inch-thick (1-cm) slices. When fries are cooked, place foie gras in a hot nonstick pan on medium-high heat and sear each side for 1 minute. Remove from pan immediately and season with salt.

7. Lay fries in the middle of the plate and crumble goat cheese all over them. Place the foie gras on top and pour the Bordelaise Sauce over the foie gras and fries.

Bordelaise Sauce
2 shallots, chopped
½ cup (125 mL) red wine
2 cups (500 mL) beef stock
¼ cup (50 mL) port
1. Place shallots and red wine in a skillet. Heat to medium-high heat and cook wine until 1 tbsp (15 mL) remains. Add stock and bring to boil. Boil 5 minutes or until reduced to 1 cup (250 mL). Add port and boil again until sauce begins to thicken slightly, about 4 minutes. Strain out shallots, pressing down on them to extract as much sauce as possible.

2. Pour over fries.
Makes about ¼ cup (50 mL) sauce
SHARE