French Bistro Grilled Fillet Roast with Shallot Sauce
Summer 2001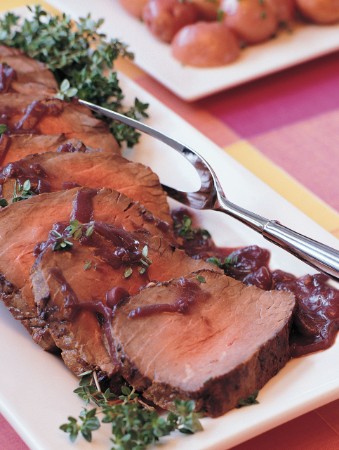 French Bistro Grilled Fillet Roast with Shallot Sauce
Summer 2001
BY: Lucy Waverman
Barbecues act like ovens when you use the indirect method of cooking. Turn off one burner (or the middle burner of a three-burner grill) and place the roast on the turned-off side after searing. This allows it to cook evenly for a longer period of time without the outside becoming charred. This French-style roast cooks beautifully by this method.
Marinade
3 tbsp (45 mL) Dijon mustard
2 tbsp (25 mL) soy sauce
2 tbsp (25 mL) chopped fresh thyme
1 tbsp (15 mL) chopped garlic
2 tbsp (25 mL) olive oil
Freshly ground pepper

One 3-lb (1.5-kg) beef fillet roast

Sauce
6 tbsp (90 mL) cold butter, divided into 1 tbsp (15 mL) sections
1 cup (250 mL) sliced shallots
1 tsp (5 mL) sugar
1/2 cup (125 mL) red wine
2 tbsp (25 mL) balsamic vinegar
2 cups (500 mL) beef broth
Salt and freshly ground pepper
1. Combine marinade ingredients and brush over roast. Marinate for up to 12 hours refrigerated.
2. Preheat grill to high. Brush oil on grill. Place roast on grill and sear each side, about 3 minutes per side. Turn off one burner and place roast on that side. Close grill and grill another 25 to 30 minutes for rare or longer until desired doneness. Place on board and let sit for 10 minutes.
3. Heat 2 tbsp (25 mL) butter in skillet on medium-high heat, reserving remaining butter. Add shallots and sauté until softened and slightly brown, about 3 minutes. Add sugar, cook 1 minute, add red wine and balsamic vinegar.
4. Reduce heat and cook for 10 minutes or until wine is reduced to 1 tbsp (15 mL). Add broth and simmer 10 to 15 minutes or until reduced by half. Remove from heat and whisk in remaining butter piece by piece until sauce thickens.
SHARE