Forked Potato Salad with Roasted Tomatoes and Wilted Spinach
Summer 2006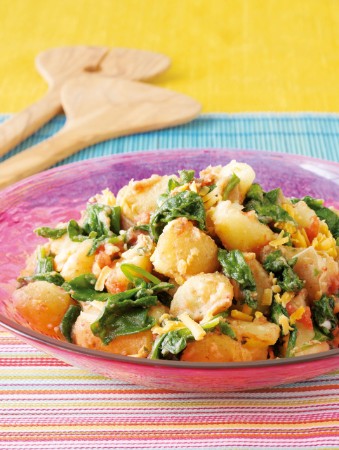 Forked Potato Salad with Roasted Tomatoes and Wilted Spinach
Summer 2006
BY: Marilyn Bentz-Crowley
For an amazing seasonal combination, serve this warm potato salad with grilled steaks and corn on the cob. Finish up with blueberry pie.
4 large plum or medium round tomatoes
4 tbsp (60 mL) olive oil, divided
2 large unpeeled garlic cloves
2½ lbs (1.25 kg) fingerling or Yukon Gold potatoes
1 tbsp (15 mL) white-wine vinegar
1 tbsp (15 mL) water
2 tbsp (25 mL) chopped fresh basil
1 tsp (5 mL) salt
¼ tsp (1 mL) freshly ground black pepper
4 cups (1 L) baby spinach, about 3 oz (90 g)
1½ cups (375 mL) grated old cheddar cheese, orange or white
1. Adjust rack above oven centre; preheat to 400ºF (200ºC).

2. Core and seed tomatoes. Oil a small heavy baking pan with 1 tbsp (15 mL) oil. Lay tomatoes, cut-side down, in pan. Add unpeeled garlic to pan centre; turn until coated with oil. Bake above oven centre for 20 minutes or until soft. Remove from oven; cool slightly on a rack. Peel tomatoes; coarsely chop. Set garlic aside.

3. Meanwhile, put 2-inches (5-cm) water into a large saucepan. Add potatoes; bring to a boil over high heat. Cover, reduce heat to low and cook for 15 to 25 minutes or until fork tender. Drain potatoes; return to saucepan. (Covered, cooked potatoes can be held over very low heat for up to half an hour.)

4. To make vinaigrette, squeeze roasted garlic into a small bowl; discard peel. Mash garlic with a fork; whisk in vinegar, water, basil, salt, black pepper and remaining 3 tbsp (45 mL) olive oil.

5. Using a large fork, very coarsely break up potatoes. (Potatoes continue to break up as other ingredients are added.) Stir in vinaigrette and chopped tomatoes, then fold in spinach and cheese. Pile into a warmed serving bowl; serve right away, sprinkled with extra cheddar cheese.
SHARE