Flank Steak with Kale and Bulgur Salad
Autumn 2014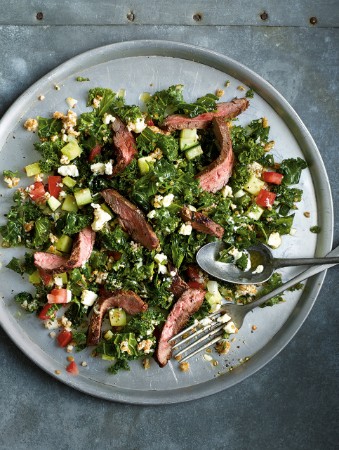 Flank Steak with Kale and Bulgur Salad
Autumn 2014
BY: Tonia Wilson-Vuksanovic
This salad tastes best if it sits in the refrigerator for a few hours, which allows the steak some time to marinate.
1½ lbs (750 g) flank steak
1 tsp (5 mL) paprika
2 tsp (10 mL) ground cumin
½ tsp (2 mL) freshly ground black pepper
2 cloves garlic, finely chopped
1 tbsp (15 mL) lemon juice
1 tbsp (15 mL) olive oil

SALAD
1 cup (250 mL) bulgur wheat
½ cup (125 mL) loosely packed fresh mint, coarsely chopped
1 cup (250 mL) good quality feta cheese, crumbled
Zest and juice of 1 lemon
½ cup (125 mL) plain yogurt, preferablyBalkan style
½ cup (125 mL) olive oil
½ tsp (2 mL) salt
4 cups (1 L) kale, stalks removed and coarsely chopped
½ cup (125 mL) white onion, finely diced
1 English cucumber, diced
3 plum tomatoes, seeds removed and diced
1 Using a fork, pierce the steak repeatedly to allow marinade to penetrate. In a large plastic freezer bag, mix together the paprika, cumin, black pepper, garlic, lemon juice and oil. Add steak to bag, coat and seal. Let marinate in refrigerator at least 3 hours, up to 12.

2 In lightly salted boiling water, cook bulgur as per package instructions. Let cool.

3 In a large bowl, stir to combine the mint, feta, lemon juice and zest, yogurt, olive oil and salt. Add the kale, onion, cucumber and tomatoes and toss to coat. When bulgur is ready, stir into kale mixture.

4 Season salad with salt to taste and add more olive oil if necessary. Let sit while steak is being prepared.

5 Heat an oiled grill to medium-high, remove steaks from marinade and season generously with salt.

6 Sear steaks about 5 to 8 minutes on each side for medium-rare (time will vary depending on steak thickness). Remove from grill, cover and let rest for 5 minutes. Slice meat about ½ inch (1 cm) thick, slicing across the grain.

7 Toss salad once more, place on plates and top with 2 or 3 slices of steak.
SHARE