Pistachio Pork Belly with Steamed Lemony Rapini
Temps des Fêtes 2012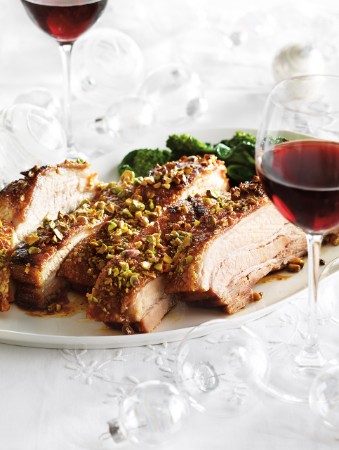 Pistachio Pork Belly with Steamed Lemony Rapini
Temps des Fêtes 2012
BY: Victoria Walsh
This impressive meal can be put together with just 30 minutes of prep (and a couple of hours in the oven). Pork belly is a great, inexpensive pick for entertaining.
3 lbs (1.5 kg) skin-on pork belly, cut into 6 portions
1 to 2 tbsp (15 to 30 mL) olive oil
½ to 1 tsp (2 to 5 mL) sea salt
½ tsp (2 mL) freshly ground black pepper
1/3 to ½ cup (80 to 125 mL) honey
1/3 cup (80 mL) coarsely chopped shelled pistachios

STEAMED RAPINI
2 bunches of rapini
3 to 4 tbsp (45 to 60 mL) olive oil
½ tsp (2 mL) salt
½ tsp (2 mL) freshly ground black pepper
2 to 3 tbsp (30 to 45 mL) freshly squeezed lemon juice
1 Preheat oven broiler to 500°F (260°C).

2 Using a very sharp knife, score the skin of each portion of pork belly, without cutting through to the meat. Rub skin sides with olive oil, then sprinkle with salt. Turn over, rub with oil, salt and pepper. Arrange skin-side up in a roasting pan or on a rimmed baking sheet. Broil in oven allowing skin to begin to "crackle." This will take about 25 minutes.

3 Reduce oven temperature to 350°F (180°C). Roast until cooked and tender, about 2 hours.

4 Increase oven temperature to 500°F (260°C) again. Carefully baste tops of pork belly with pan juices. Broil for 10 to 30 more minutes or until crisp. Remove to a heatproof surface. Generously brush tops and sides of each portion of pork belly with honey. Sprinkle pistachios overtop, then drizzle 1 tsp (5 mL) more honey over nuts on each portion. Continue broiling for 3 to 5 more minutes or until glazed and pistachios are toasted. Loosely cover with foil. Let rest for 20 minutes before serving.

5 Meanwhile, set up a steamer or a pot partially filled with water and fitted with a steamer basket. When pork is resting, steam rapini for 3 to 6 minutes or until fork tender. Drizzle with olive oil and sprinkle with salt and pepper. Squeeze lemon juice overtop. Toss to evenly coat. Serve alongside pork.
SHARE