Five-Spice Turkey Cutlets with Sichuan Noodle Salad
Automne 2016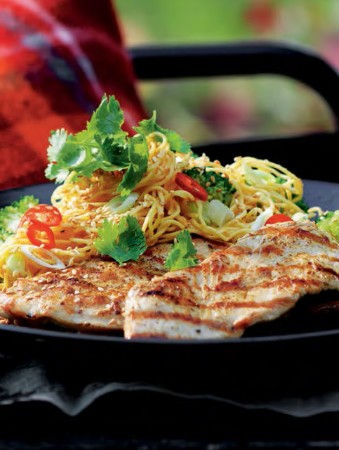 Five-Spice Turkey Cutlets with Sichuan Noodle Salad
Automne 2016
BY: Eric Vellend
Perfumed with cinnamon, star anise and fennel, Chinese five-spice powder adds an exotic twist to turkey breast. The cutlets are served with a habit-forming noodle salad fortified with broccoli. Turkey scaloppini are a bit thin for the grill, so have your butcher slice the cutlets for you, or do it yourself with a sharp chef's knife. If you can't find chow mein noodles, you can substitute dried soba noodles or spaghettini.
NOODLE SALAD
2 cloves garlic, finely grated on rasp
1 tbsp (15 mL) finely grated ginger
2 tbsp (30 mL) tahini paste
2 tbsp (30 mL) smooth peanut butter (not natural)
1 tbsp (15 mL) light brown sugar, packed
¼ cup (60 mL) soy sauce
3 tbsp (45 mL) rice vinegar
1 tbsp (15 mL) sriracha sauce, or to taste
3 tbsp (45 mL) sesame oil, divided
1 bunch broccoli
12 oz (375 g) fresh chow mein noodles
2 green onions, thinly sliced

TURKEY CUTLETS
1½ lbs (750 g) boneless skinless turkey breast, sliced ½ inch (1 cm) thick
1 tbsp (15 mL) salt
1 tsp (5 mL) Chinese five-spice powder
Vegetable oil for brushing

1 tbsp (15 mL) toasted sesame seeds
1 hot red chili pepper, thinly sliced
1 cup (250 mL) loosely packed cilantro leaves
1 For the noodle salad, whisk garlic, ginger, tahini, peanut butter and brown sugar in a mixing bowl. Gradually whisk in soy sauce, vinegar, sriracha and 2 tbsp (30 mL) sesame oil until emulsified. Set aside.

2 Cut the broccoli into small florets. Peel stems and cut into julienne. Cover and refrigerate stems.

3 Bring a large pot of salted water to a boil. Add broccoli florets. Cook until al dente, 2 minutes. Transfer with a slotted spoon to a bowl of ice water. Cool, drain and dry on paper towel.

4 In the same pot of water, cook noodles according to instructions on package—they should only take a few minutes. Drain in colander. Run cold water over noodles, tossing with tongs, until cool. Drain again. Transfer noodles to a large mixing bowl and toss with remaining 1 tbsp (15 mL) sesame oil.

5 Add broccoli florets, stems, green onions and enough dressing to generously coat. Mix and refrigerate until ready to serve.

6 Preheat barbecue to high.

7 Place turkey cutlets on baking tray. Mix salt and five-spice powder in small bowl. Season turkey cutlets to taste with mixture. Brush lightly with vegetable oil.

8 Clean and oil barbecue grate. Grill turkey until cooked through, 2 minutes per side. Sprinkle salad with sesame seeds, chili and cilantro. Serve with turkey cutlets.
SHARE