Fish with Grapefruit and Capers
Temps des Fêtes 2007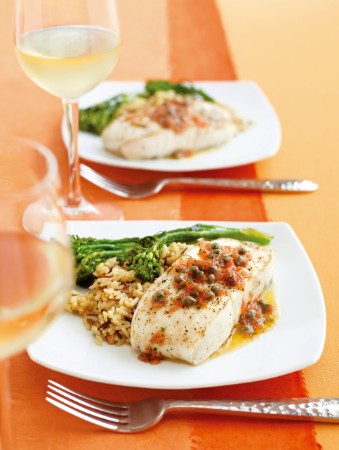 Fish with Grapefruit and Capers
Temps des Fêtes 2007
BY: Jennifer McLagan
Fish is often served with a lemon and caper butter sauce. Here, grapefruit replaces lemon, making a less acidic combination that goes well with the halibut steaks. If you can't buy halibut, use any firm white fish.
Four 1-inch-thick (2.5-cm) halibut steaks, about 7 oz (200 g) each
2 grapefruit
2 tbsp (25 mL) olive oil
Sea salt and freshly ground pepper
½ cup (125 mL) unsalted butter
2 tbsp (25 mL) capers, preferably salt-packed, rinsed
2 tbsp (25 mL) chopped flat-leaf parsley
1 tbsp (15 mL) freshly squeezed lemon juice
1. Remove the fish steaks from the refrigerator.

2. Finely grate the zest of 1 grapefruit; set aside. Cut a thick slice off the top and bottom of each grapefruit to expose the flesh. Stand the fruit upright on a cutting board and, cutting from the top down to the bottom, remove both the skin and pith. Holding the fruit over a bowl, cut along either side of each segment to the centre to free it from the membranes. Squeeze the juice from the spent membranes. Strain the juice and set the segments aside.

3. Preheat the broiler to high.

4. Brush both sides of the fish steaks with the oil and season with salt, pepper. Broil the fish for 10 minutes or until cooked through, turning once.

5. While the fish is cooking, heat the butter in a small frying pan over medium heat. When it begins to colour, add the capers, ¼ cup (50 mL) grapefruit juice, zest and segments, stir to heat through and break down the grapefruit. Add the parsley and lemon juice, then season with salt and pepper.

6. Serve the fish with the grapefruit sauce spooned overtop.
SHARE