Firecracker Fish Sandwiches with Green Mango Salsa & Greens with Blueberry Vinaigrette
Summer 2011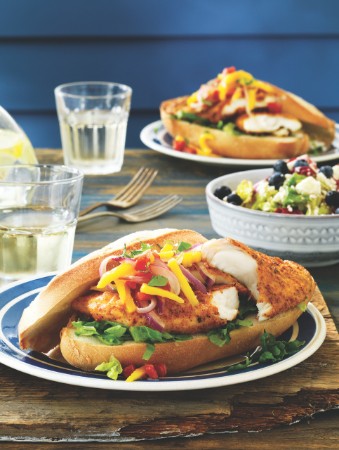 Firecracker Fish Sandwiches with Green Mango Salsa & Greens with Blueberry Vinaigrette
Summer 2011
BY: Marilyn Bentz-Crowley
This spicy rub is delicious on a variety of white fish and will also ramp up the taste of skinless boneless chicken for another dynamite sandwich. Buy fresh herbs and spices for the rub, as pepper-based cayenne, paprika and chili powder lose their oomph over time. Both the blueberry vinaigrette and the mango salsa are slightly sweet-sour: both resonate well with the spicy fish.
RUB
1 tbsp (15 mL) salt
1 tsp (5 mL) each of granulated sugar, freshly ground black pepper, paprika, cayenne, dried thyme and dried oregano
2 tsp (10 mL) each of chili powder, ground cumin, garlic powder and onion powder

SALAD
¾ cup (175 mL) blueberries, divided
2 tbsp (30 mL) balsamic vinegar
¼ tsp (1 mL) granulated sugar
Pinches of salt
¼ cup (60 mL) olive oil
1 small head radicchio, torn
7 cups (1.75 L) torn romaine lettuce
3 to 4 oz (90 to 125 g) feta cheese, crumbled

SALSA
1 medium to large underripe mango, peeled and julienned
¾ cup (175 mL) julienned red onion
¾ cup (175 mL) seeded and diced tomato, about 1 large plum tomato
½ large lime, juice and zest
½ tsp (2 mL) granulated sugar
¼ tsp (1 mL) salt
1 clove garlic, minced
1 tsp (5 mL) peanut or other vegetable oil

FISH
4 tilapia fillets or 1½ to 2 lbs (750 g to 1 kg) other white fish fillets
3 to 4 tbsp (45 to 60 mL) peanut or other vegetable oil, divided
½ cup (125 mL) all-purpose flour
4 Italian rolls, each about 6 to 8 inches (15 to 20-cm) long
3 to 4 leaves romaine lettuce, shredded
¼ cup (60 mL) chopped coriander
1 Stir rub ingredients together; store in an airtight jar, out of the light, for up to several weeks.

2 Measure ¼ cup (60 mL) blueberries into a small mixing bowl. Mash with a fork. Add vinegar, sugar and salt; set aside for 30 minutes or more at room temperature. Then strain through a fine strainer, discarding solids.

3 Whisk 2 tbsp (30 mL) blueberry vinegar with oil. (Cover and refrigerate remaining blueberry vinegar for another time.) Toss with radicchio and romaine just before serving. Scatter salad with remaining blueberries and feta.

4 Toss mango with red onion and tomato. Stir lime juice and zest with sugar, salt, garlic and oil. Drizzle over mango mixture; stir well. Set aside to develop flavours for 30 minutes at room temperature or cover and refrigerate for up to half a day (bring to room temperature before serving).

5 When ready to serve sandwiches, sprinkle each side of fillet with ½ tsp (2 mL) rub. (If using another fish variety, portion into 4 serving pieces, as needed.) Heat 1 tbsp (15mL) oil over medium heat until very hot. Dip each fillet into flour; shake off excess. Fry each coated fillet for 3 to 4 minutes per side, using more oil as needed, or until a fork separating fish flakes shows centre to be opaque.

6 Meanwhile, line rolls with shredded lettuce. Top with hot fish, cutting to fit as needed, and a heap of the mango salsa. Sprinkle with coriander. Serve with salad.
SHARE