Fingerling Potato Salad with Mint and Peas
Summer 2002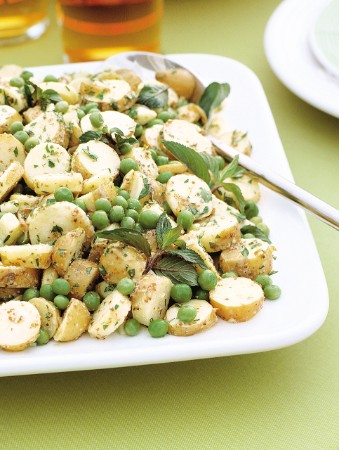 Fingerling Potato Salad with Mint and Peas
Summer 2002
BY: Jennifer McLagan
The trick of this salad is to toss the still warm potatoes with the dressing. This way the potatoes drink in the dressing. Peas are optional but add to the visual appeal and flavour. This salad keeps well, but it is best made several hours before serving and eaten at room temperature rather than cold. Add peas and mint just before serving.
3 lbs (1.5 kg) fingerling or baby new potatoes, scrubbed
2 tsp (10 mL) salt
1 bay leaf
2 tbsp (25 mL) grainy Dijon mustard
2 tbsp (25 mL) freshly squeezed lemon juice (about 1/2 lemon)
3/4 cup (175 mL) olive oil
Freshly ground pepper
1/2 cup (125 mL) fresh mint leaves, chopped
2 cups (500 mL) fresh or frozen peas
1. Place potatoes, 1 tsp (5 mL) salt and bay leaf in a large pot. Cover with water and bring to a boil. Lower heat and cook until potatoes can just be pierced by a skewer. This will take 15 to 25 minutes depending on the potatoes. The potatoes should be cooked but not mushy.
2. While potatoes are cooking, make dressing by whisking together mustard, remaining salt and lemon juice in a large bowl. Slowly whisk in olive oil. Add pepper, check seasoning.
3. Slice potatoes while they are hot into 1/4-inch (5-mm) slices and toss together in dressing using a rubber spatula so as not to break up potatoes. Leave to cool at room temperature.
4. Before serving, add mint and peas. If using frozen peas, place them in 2 cups of hot water and allow to sit 3 minutes. Drain and add. Toss together, check seasoning again and serve.
SHARE