Slow-Roasted Salmon
Autumn 2013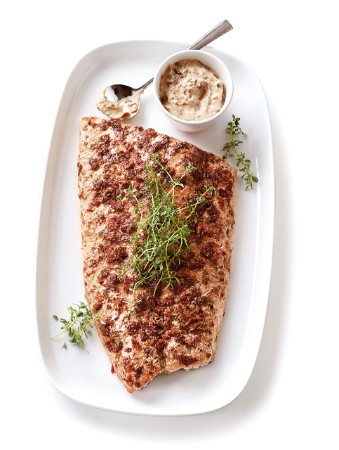 Slow-Roasted Salmon
Autumn 2013
BY: Lucy Waverman
This recipe was selected as one of our Contributor's favourites in our 20th Anniversary Autumn 2013 issue. The recipe originally appeared in the Autumn 2008 issue.

Roasting salmon at a low temperature makes it succulent, with a different texture than high roasting. It is softer and more elegant. If you want to use 6-oz (175-g) fillets, cut the cooking time by 5 to 10 minutes. This dish is equally good hot or cold.
MARINADE
2 tsp (10 mL) herbes de Provence
¼ cup (60 mL) olive oil
2 tbsp (30 mL) chopped oil-packed sun-dried tomatoes
1 tbsp (15 mL) Dijon mustard
½ tsp (2 mL) chili flakes
Salt to taste

SALMON
1 side of salmon (2 lbs/1 kg)
1 Combine herbes de Provence, olive oil, sundried tomatoes, mustard and chili flakes in a mini-chop. Process until combined. Mixture should have a chunky texture.

2 Preheat oven to 275°F (140°C).

3 Place salmon in an oiled metal baking dish. Spread marinade over salmon and season with salt. Bake, uncovered, for 35 minutes or until white juices appear and salmon is just cooked through. Serve with Niçoise Salsa (recipe follows).

NIÇOISE SALSA

A lemony mayonnaise-based herb sauce with the addition of anchovy fillets for texture. This makes a good salad dressing for firmer vegetables. It will keep for 3 days.

½ cup (125 mL) mayonnaise
1 tbsp (15 mL) chopped anchovies
2 tbsp (30 mL) chopped sun-dried tomatoes
2 tbsp (30 mL) chopped parsley
2 tbsp (30 mL) chopped chives
1 tbsp (15 mL) lemon juice
½ tsp (2 mL) chopped garlic
2 tbsp (30 mL) olive oil
Freshly ground pepper to taste
1 Combine mayonnaise, anchovies, sun-dried tomatoes, parsley, chives, lemon juice and garlic. Whisk in olive oil and add pepper to taste. Serve salsa with salmon.
SHARE