Parsley & Mustard-Crusted Beef Tenderloin
Winter 2016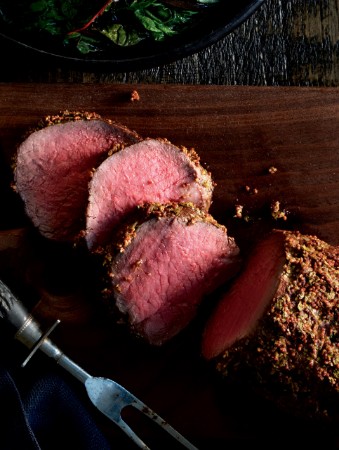 Parsley & Mustard-Crusted Beef Tenderloin
Winter 2016
BY: Tonia Wilson-Vuksanovic
This is an elegant dish, but ever so simple to prepare. Perfect for a Saturday evening with buttery mashed potatoes, wilted greens and of course, a great bottle of wine.
2 lbs (1 kg) beef tenderloin, cleaned and trimmed
2 tbsp (30 mL) olive oil
Salt to taste
¼ cup (60 mL) grainy mustard
¼ cup (60 mL) flat-leaf parsley, finely chopped
Roasted Garlic & Thyme Butter (recipe follows)
1 Preheat oven to 400°F (200°C).

2 Brush tenderloin with 1 tbsp (15 mL) oil and season generously with salt.

3 In a large skillet, heat remaining 1 tbsp (15 mL) oil over medium-high. Sear beef on all sides until well browned, about 4 minutes per side.

4 Set beef aside until cool enough to handle.

5 In a small bowl, stir together mustard and parsley. Place roasting rack in pan and place beef on top. Pat the mustard mixture all over the tenderloin. Roast in oven to desired doneness, about 25 minutes for medium-rare, 135°F (57°C). Tent with foil and let rest for 10 minutes before slicing.

6 In a small saucepan, melt desired amount of Roasted Garlic & Thyme Butter over low heat and pour over beef before serving.
ROASTED GARLIC & THYME BUTTER

This recipe makes more than needed for the tenderloin, but the butter will keep wonderfully in the refrigerator for two weeks, allowing you to add instant flavour to any of your favourite cooked vegetables or meats. It also freezes very well.

2 heads garlic
10 sprigs of thyme plus 1 tsp (5 mL), finely chopped
2 tbsp (30 mL) olive oil
½ cup (125 mL) salted butter, at room temperature
Freshly ground black pepper to taste
1 Preheat oven to 350°F (180°C).

2 Slice the tops off the whole heads of garlic to expose just the tips of the cloves, place on a large sheet of foil with thyme sprigs, and drizzle with olive oil. Wrap completely and bake in middle of oven for 1¼ hours. Once roasted, open package and let cool. Remove all the garlic from its skin.

3 Place garlic in food processor with butter, finely chopped thyme and black pepper. Pulse until combined and smooth.

4 Place butter in refrigerator until ready to use.
SHARE