Filet Mignon with Prosciutto & Grilled Tomatoes
Summer 2009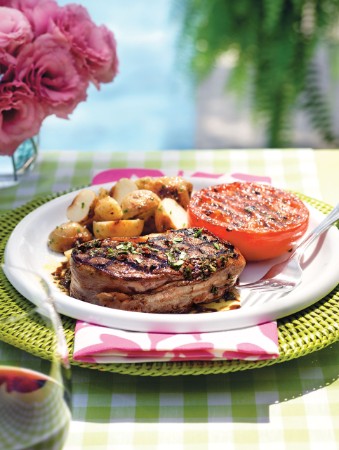 Filet Mignon with Prosciutto & Grilled Tomatoes
Summer 2009
BY: Marilyn Bentz-Crowley
Beef from the filet is inherently tender and moist. Gorgeous earthy new potatoes and steamed fresh peas are all that is needed to complete this elegant yet simple feast. Smoked prosciutto adds a delicious dimension.
4 filet mignon steaks, 5 to 6 oz (150 to 175 g) each, a generous
1 inch (2.5 cm) thick
4 slices smoked or traditional prosciutto
2 very large ripe but firm tomatoes, such as beefsteak
1⁄4 cup (50 mL) olive oil
2 tbsp (25 mL) balsamic vinegar
1 large garlic clove, minced
1⁄4 tsp (1 mL) salt
Several grindings of black pepper
1⁄4 cup (50 mL) finely chopped fresh basil plus more for garnish
1. Lay steaks on work surface. Cut prosciutto slices in half lengthwise. Join 2 halves by overlapping by about 1 inch (2.5 cm) forming a long strip. Fold in half lengthwise. Use to wrap filet edges; secure ends with toothpicks pressed through prosciutto and into the steak. Core and cut tomatoes in half horizontally. Stir oil with vinegar, garlic, salt and pepper; then stir in basil.

2. Preheat barbecue until very hot. Brush tomatoes first with oil mixture; then steaks. Grill steaks, brushing several times with oil mixture, for 4 minutes (medium-rare or 145°F/63°C internally) to 5 minutes (medium or 160°F/70°C internally) per side, or more for more well-done meat. (For food safety do not brush with oil during the last couple of minutes of grilling.) Grill tomatoes, without brushing again, for about 2 minutes a side or until hot and just beginning to soften.

3. Place steaks and tomatoes on warmed individual plates, remove toothpicks and serve immediately, sprinkled with additional basil.
SHARE