Fig and Whisky Pie with Orange Cream
Printemps 2007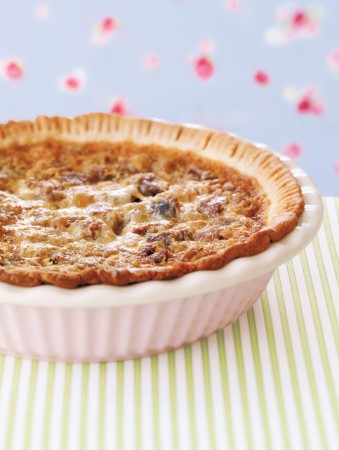 Fig and Whisky Pie with Orange Cream
Printemps 2007
BY: Marilyn Bentz-Crowley
Pick your favourite-Irish whiskey, Scotch whisky or bourbon-for this remarkable pie.
One 250 g pkg dried figs
¼ cup (50 mL) whisky
1 small orange
2 eggs
¼ cup (50 mL) butter, melted
2/3 cup (150 mL) corn syrup
1/3 cup (75 mL) liquid honey
1 tsp (5 mL) vanilla
¼ tsp (1 mL) salt
2 tbsp (25 mL) all-purpose flour
One 9-inch (23-cm) unbaked pie shell,
homemade or purchased deep-dish
1 cup (250 mL) whipping cream
1. Remove stems and cut each fig into several pieces. Place pieces in a small saucepan with whisky. Heat over low heat for 5 to 8 minutes or until most of the whisky is absorbed. Cool. Zest orange; set half of zest and orange aside for garnish.

2. Preheat oven to 425ºF (220ºC).

3. Using a food processor or a large mixing bowl, whirl eggs with butter, corn syrup, honey, vanilla, salt and half of orange zest. Whirl or stir until smooth. shell.

4. Stir cooled figs with flour. Scatter over bottom of pie shell. Evenly pour over egg mixture.

5. Place on centre rack in oven; then immediately turn temperature down to 350ºF (180ºC). Bake 40 to 45 minutes until evenly golden brown. Centre of pie seems loose when shaken, however it sets as pie cools.

6. Whip cream; stir in zest. Using a sharp knife, peel and segment orange, removing all white. Serve pie with a dollop of whipped cream topped with a segment of orange. Pie keeps well, covered and refrigerated for up to 2 days. Bring to room temperature before serving.
SHARE