Fig & Hazelnut-Stuffed Pork Rib Chops
Winter 2016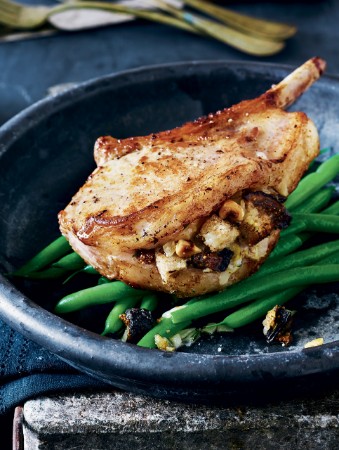 Fig & Hazelnut-Stuffed Pork Rib Chops
Winter 2016
BY: Christopher St. Onge
These sweet-salty chops are fabulous Sunday night fare. Begin by brining in the morning, go about your day and finish them in the evening. Serve them with tender-crisp green beans.
3 cups (750 mL) water
2 tbsp (30 mL) kosher salt
2 tbsp (30 mL) maple syrup
Generous sprig thyme
5 cloves garlic, peeled, divided
1 tbsp (15 mL) whole-grain mustard
4 bone-in pork rib chops, each about 12 oz (375 g)
2 tbsp (30 mL) butter, divided
2 tbsp (30 mL) olive oil, divided
½ small onion, finely diced
2 tsp (10 mL) finely chopped thyme
6 dried black figs, trimmed of stem and diced
1 cup (250 mL) chopped stale whole-grain bread
¼ cup (60 mL) chopped, toasted and skinned hazelnuts (see TIP below)
2 tbsp (30 mL) chicken stock or water
2 oz (60 g) coarsely grated Comte cheese
Salt and freshly ground black pepper
1 In a medium pot, combine water, salt, maple syrup, thyme and 3 cloves garlic. Stir to dissolve salt and bring to a boil; remove from heat and cool to room temperature. Stir in mustard. Add chops to a large re-sealable plastic bag and pour brine over. Seal and refrigerate for 4 to 8 hours.

2 In a medium skillet, heat 1 tbsp (15 mL) each butter and olive oil over medium heat. Fry onion for 4 to 5 minutes or until golden. Finely chop remaining 2 cloves of garlic and add to onions; stir to combine and cook 1 minute longer. Add thyme, figs, bread and hazelnuts; stir to coat all in butter. Remove from heat, stir in chicken stock and set aside to cool.

3 Preheat oven to 375°F (190°C).

4 Remove chops from bag, pat dry and discard brine. Working with 1 chop at a time, lay flat on a board; with a sharp pairing knife parallel to board and centred between the top and bottom of the chop on the opposite side of the bone, cut a slit about 3 inches (8 cm) long. Work the tip of the knife into the meat to create a generous pocket for the stuffing; repeat with remaining chops.

5 Toss stuffing with cheese, season with salt and pepper to taste, and divide between pockets.

6 Heat remaining 1 tbsp (15 mL) each of butter and olive oil in a large ovenproof skillet. Season chops with freshly ground pepper and brown 3 minutes per side, turning carefully to ensure stuffing remains in place. Roast in oven for 15 to 18 minutes or until juices run clear. Serve immediately.
TIP Toast hazelnuts in a 375°F (190°C) oven for 10 to 12 minutes or until golden and fragrant; when cool enough to handle, gather in a clean kitchen towel, fold to enclose and rub nuts to remove skins.
SHARE