Fiddlehead Soup with Chive Cream Drizzle
Early Summer 2005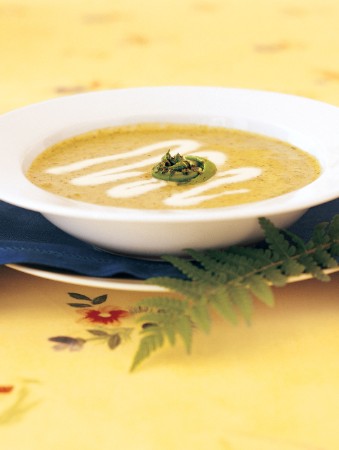 Fiddlehead Soup with Chive Cream Drizzle
Early Summer 2005
BY: Jennifer MacKenzie
Brilliant green with the fresh taste of early summer fiddleheads and leeks, this soup is the perfect start to an elegant dinner or makes a delicious light lunch with crusty bread. Boiling the fiddleheads separately and draining before adding to the pot ensures the soup doesn't get discoloured. Straining the purée takes a little extra effort but the velvety texture you get makes it worthwhile. If using purchased or commercially prepared stock, choose a low-sodium variety to be sure the delicate flavour of fiddleheads isn't overpowered. The soup can be made ahead of the puréeing stage and refrigerated overnight or even frozen. Reheat just before serving and add the milk or serve it chilled.
4 cups (1 L) fiddleheads (about 12 oz/375 g)
2 tbsp (25 mL) butter
1½ cups (375 mL) chopped leeks, white and pale green parts
Salt and freshly ground pepper
2 tbsp (25 mL) dry sherry
1 tbsp (15 mL) all-purpose flour
3 cups (750 mL) vegetable or chicken stock
1 large potato, peeled and diced
1 cup (250 mL) (approx.) milk or light cream

Chive Cream
¼ cup (50 mL) whipping cream
1 tbsp (15 mL) finely chopped fresh chives
Freshly ground pepper
1. Rub brown papery scales off of fiddleheads and rinse several times under cold running water. Drain well and trim off ends. Bring a large pot of water to boil. Boil fiddleheads for 5 to 7 minutes or until crisp-tender. Drain and set fiddleheads aside, reserving 4 to 6 for garnish.

2. Melt butter in a large pot over medium heat. Add leeks and ¼ tsp (1 mL) each salt and pepper and cook, stirring, for 2 minutes. Reduce heat to low, cover and cook, stirring often, for about 10 minutes or until leeks are very soft and starting to brown. Pour in sherry and scrape up any brown bits stuck to pan and boil until almost evaporated. Sprinkle with flour and cook, stirring, for 1 minute. Gradually stir in stock and bring to boil. Add potato, reduce heat to medium-low and simmer, covered, for 5 minutes or until softened. Add fiddleheads and simmer, uncovered, for about 5 minutes or until vegetables are soft.

3. Working in batches, in a blender or food processor or with an immersion blender, purée until smooth. Strain, if desired, through a fine mesh sieve and return to pot. Return to medium heat and stir in milk, adding more to thin as desired. Reheat to steaming, without boiling, and season to taste.

4. For chive cream, lightly whip cream with a whisk until slightly thickened, but not quite to soft peaks. Whisk in chives and season with pepper. Pour into a squeeze bottle or cover in a bowl. Refrigerate until serving, for up to 8 hours.

5. Ladle soup into warmed bowls and drizzle each serving with chive cream and top with a reserved fiddlehead.
SHARE