Fiddlehead & Edamame Salad with Feta
Début de l'été 2011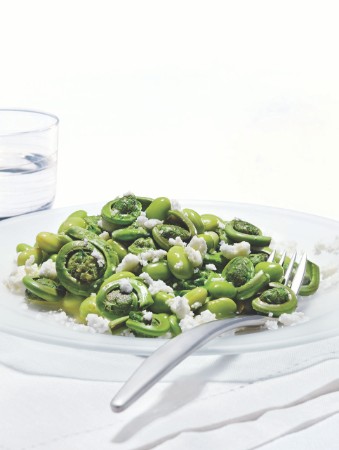 Fiddlehead & Edamame Salad with Feta
Début de l'été 2011
BY: James Chatto
This simple and tasty salad was inspired by a recipe from NorCliff Farms, Ontario's first fiddlehead "farm" (www.norcliff .com). The quality of olive oil and feta you use will make a big difference. Fresh fiddleheads are harvested between mid-April and mid-June (depending on the weather). Look for them at local markets and grocery stores.
8 oz (250 g) fresh fiddleheads, stem end trimmed
1½ cups (375 mL) shelled edamame (fresh or frozen and defrosted)
1 tbsp (15 mL) lemon juice
3 tbsp (45 mL) extra virgin olive oil
Pinch sugar
Salt and freshly ground pepper
¼ cup (50 mL) feta cheese, finely crumbled
Fleur de sel for sprinkling
1. Bring a pot of salted water to a boil over high heat. Add the fiddleheads, cook for about 3 minutes or until tender-crisp, remove from pot with a slotted spoon and plunge into ice water to stop them from cooking further. Return water to a boil, add edamame and cook for 1 minute or until bright green, then drain and refresh in ice water. Place fiddleheads and edamame in a strainer and drain well.

2. Combine lemon juice and olive oil in a bowl, whisk together and season with sugar, salt, and pepper to taste. Reserve.

3. Toss fiddleheads and edamame with lemon juice dressing just before serving. Place on serving dish and sprinkle with feta cheese and fleur de sel.


SHARE