Fennel and Beet Salad with Asian Flavours
Winter 2008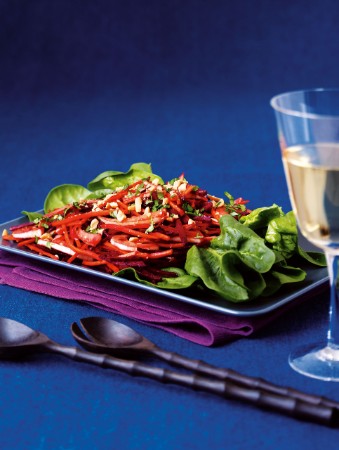 Fennel and Beet Salad with Asian Flavours
Winter 2008
BY: Marilyn Bentz-Crowley
Raw beets have a crisp texture and mild taste that is greatly complemented by fennel. This salad is a fine excuse to finally buy a mandoline for professional julienne cuts. An inexpensive mandoline gives years of service so look for one with a v-shaped blade in kitchenware stores or a more basic straight-bladed model in Asian stores.
3 medium beets
1 cup (250 mL) julienned carrot
1 cup (250 mL) sliced fresh fennel (very thinly and crosswise)
2 green onions
2 tbsp (25 mL) peanut oil
1 tsp (5 mL) dark sesame oil
2 tbsp (25 mL) seasoned rice wine vinegar (see Tip)
2 tsp (10 mL) tamari or soy sauce
1 tsp (5 mL) finely grated fresh ginger or large pinch of dried
¼ tsp (1 mL) crushed chili flakes
4 cups (1 L) baby spinach or romaine lettuce
2 tbsp (25 mL) chopped fresh coriander
2 tbsp (25 mL) chopped unsalted peanuts
1. Use a sharp knife to peel beets to their deep red interior. Julienne beets; place in a large bowl with carrot and fennel. Finely slice green onions; add to beets and toss.

2. Whisk oils with vinegar, tamari, ginger and chili flakes. (Vegetables and dressing can be prepared up to a day ahead; separately cover and refrigerate). When ready to serve, pour dressing over beet mixture and toss. Heap on a bed of spinach and garnish with coriander and peanuts.

Tip: Rice wine vinegar, already seasoned with sugar and salt, can be purchased at Asian and many grocery stores. Seasoned rice wine vinegar, alone or with a touch of oil, makes a simple yet quite fine dressing for carrot or broccoli salad.
SHARE