Fennel & Pink Peppercorn Sausage
Holiday 2016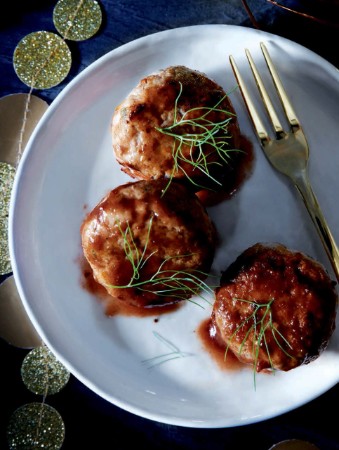 Fennel & Pink Peppercorn Sausage
Holiday 2016
BY: Tonia Wilson-Vuksanovic
These small patties offer up big flavour in each bite. You can find the fennel seed, pink peppercorns and dates at your local bulk store.
1 tsp (5 mL) fennel seed
1 tsp (5 mL) pink peppercorns
1½ lbs (750 g) ground pork
1 tsp (5 mL) finely grated orange zest, about the zest of 1 orange
2 tsp (10 mL) fresh sage, finely chopped
⅛ tsp (0.5 mL) ground nutmeg
2 tbsp (30 mL) 35% cream
1 egg yolk
2 tbsp (30 mL) plain bread crumbs
½ tsp (2 mL) salt
2 tbsp (30 mL) olive oil for frying
Fresh fennel fronds or orange zest for garnish
1 With a spice grinder or mortar and pestle, coarsely grind fennel seed and pink peppercorns.

2 In a large bowl, mix together the ground pork, fennel seed, pink peppercorns, orange zest, sage, nutmeg, cream, egg yolk, bread crumbs and salt until well combined.

3 Form into 30 equal-sized balls and flatten each slightly. Place in refrigerator while preparing the Tamarind Plum Sauce (recipe follows).

4 In a large skillet, heat 1 tbsp (15 mL) olive oil over medium heat. Add half of the patties and fry for 4 to 5 minutes until golden, flip and continue to cook on second side until golden and cooked through, another 4 to 5 minutes. Place on plate and set aside.

5 Add another 1 tbsp (15 mL) olive oil to pan and continue cooking the remaining patties.

6 Place all patties back in pan along with Tamarind Plum Sauce, warm through, garnish if desired and serve.
TAMARIND PLUM SAUCE
Tamarind is a tree fruit that has a distinctive sweet-sour flavour and can be found in many cuisines of Southeast Asia and India. Its name comes from the Arabic word tamar-hindi, meaning "Indian date." Tamarind pulp can be found at well-stocked mainstream grocery stores as well as Southeast Asian and Indian grocers.

½ cup (125 mL) tamarind pulp (sold in a plastic wrapped block)
1 cup (250 mL) boiling water
¼ cup (60 mL) pitted dates, whole
1 red or black plum, pitted and cut into 8 pieces
¼ tsp (1 mL) ground ginger
1 tsp (5 mL) garlic, finely sliced
⅛ tsp (0.5 mL) salt
1 cup (250 mL) water
1 tbsp (15 mL) molasses
1 Place tamarind pulp in a small bowl and cover with 1 cup (250 mL) of boiling water. Break the pulp up with a fork and let sit for 5 minutes until softened.

2 Once softened, use the back of a spoon to push the tamarind pulp through a sieve to achieve ¾ cup (175 mL) of softened tamarind (the mixture will be rather runny). Discard the seeds and fibre.

3 Add to a small saucepan the softened tamarind, dates, plum, ground ginger, garlic, salt and 1 cup (250 mL) water.

4 Cover and bring to a boil over high heat. Reduce heat to low and simmer for 20 minutes; let cool slightly.

5 Pour mixture into blender and add molasses. Purée until smooth. It is ready to use.
SHARE