Fennel & Peppercorn Rack of Venison
Holiday 2017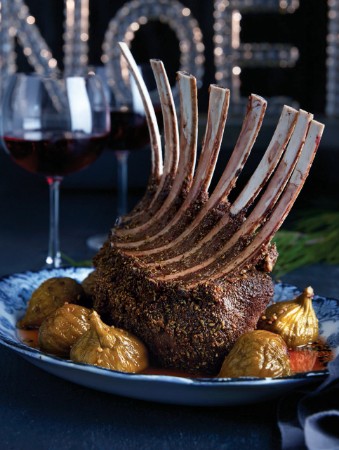 Fennel & Peppercorn Rack of Venison
Holiday 2017
BY: Jennifer MacKenzie
When you want to make a splash at your holiday table, this stunning rack of venison is sure to do the trick. Creating a festive green and pink crust, the fennel seeds and pink peppercorns are attractive and the bold flavour combination complements the rich venison. Pickled Figs (recipe follows) balance the richness with sweetness and tang. Order the venison roast well ahead of time from your local butcher or specialty grocery store. Make the Pickled Figs at least a few days ahead for the optimal flavour. Sweet potatoes or mashed or dauphinoise potatoes and tender-crisp green beans make lovely accompaniments.
2 tbsp (30 mL) fennel seeds
2 tbsp (30 mL) pink peppercorns
1 tsp (5 mL) black peppercorns
½ tsp (2 mL) salt
2 tbsp (30 mL) olive oil
1 frenched rack of venison (8 ribs), about 2½ to 3 lbs (1.25 to 1.5 kg)
Pickled Figs
1. Preheat oven to 450°F (230°C).

2. Combine fennel seeds, pink peppercorns, black peppercorns and salt in a mortar and crush with a pestle until ground but not powdered. (Alternatively, pulse a few times in a spice grinder.) Transfer to a bowl and stir in oil.

3. Rub spice mixture all over meaty parts of venison and backs of ribs. Place venison, with the ribs down, in a shallow roasting pan.

4. Roast in preheated oven for 15 minutes.

5. Reduce oven temperature to 300°F (150°C) and roast for about 30 minutes or until thermometer inserted in the thickest part of meat registers 135°F (57°C) for medium-rare or to desired doneness (the temperature will continue to increase just slightly while the roast rests). Transfer to a platter, tent with foil and let rest for 15 minutes.

6. Drain figs, reserving liquid, and add to roasting pan. Bake figs in oven for about 10 minutes or until warmed through.

7. Pour about ½ cup (125 mL) of the reserved fig pickling liquid into a small saucepan. Boil over medium heat for about 10 minutes or until reduced by about half and slightly syrupy.

8. Arrange warm figs on platter around roast. Cut venison into chops and serve with warm figs. Drizzle figs with reduced syrup.
PICKLED FIGS

Poaching figs in a sweet white balsamic pickling liquid makes for attractive, succulent pickles to serve with the Fennel & Peppercorn Rack of Venison. The green Calimyrna figs make the prettiest pickles, but black figs will work too. You may want to make a double batch of these pickles to serve throughout the festive season on a charcuterie or cheese platter. Extra pickling liquid can be used to make salad dressing—or reduce it and use it as a glaze for roasted poultry or pork. These are best made at least 3 days ahead of serving and even better after a week. They're not processed for room-temperature storage, so keep them in the fridge and use within a couple of months.

16 large fresh green figs (see TIP)
⅔ cup (150 mL) granulated sugar
1 tsp (5 mL) black peppercorns
1 tsp (5 mL) yellow mustard seeds
½ tsp (2 mL) kosher or pickling salt
1⅓ cups (330 mL) water
1 cup (250 mL) white balsamic vinegar
1. Rub figs under cool running water to rinse them well. Trim off the tough portion of the stems. Pierce skin of figs several times with a toothpick. Set aside.

2. Combine sugar, peppercorns, mustard seeds, salt, water and vinegar in a shallow saucepan that fits figs in a single layer. Bring to a gentle boil over medium heat, stirring to dissolve sugar.

3. Add figs to pickling liquid in a single layer. Reduce heat to a very gentle simmer and poach figs, flipping over occasionally, for about 30 minutes or until figs are translucent and very tender (but not falling apart). Adjust heat as necessary to keep just small bubbles rising to the surface (boiling too hard will cause figs to fall apart).

4. Meanwhile, fill a 1-qt (1-L) canning jar with boiling water to heat. Pour out water just before filling.

5. Using a slotted spoon, carefully transfer poached figs to jar, then pour in pickling liquid, being sure to add the whole spices to the jar. Any extra pickling liquid can be stored in a separate container. Wipe rim of jar, seal with 2-piece metal lid or a plastic storage cap and let cool. Refrigerate for at least 3 days or for up to 2 months.
TIP If using smaller, purple mission figs, use about 24 figs, or about 1¼ lbs (625 g), and reduce cooking time to about 20 minutes.
SHARE