Farinata (Italian crepes)
Été 2005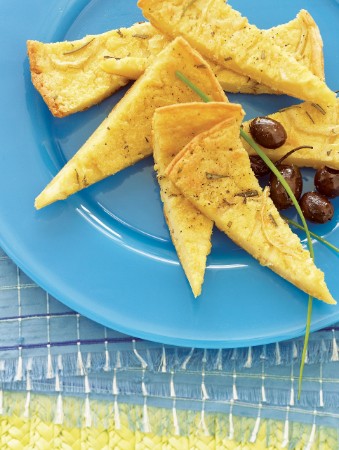 Farinata (Italian crepes)
Été 2005
BY: Lucy Waverman
Andrew Milne-Allen, owner-chef of Zucca Restaurant in Toronto, makes this delicious pancake as a little snack before dinner. Bake it either on the barbecue, in the skillet or in the oven. Cut into triangles for serving. Serve it with olives on the side.
¾ cup (175 mL) chickpea flour
1 tsp (5 mL) salt
1½ cups (375 mL) water
2 tbsp (25 mL) extra virgin olive oil
¼ cup (50 mL) thinly sliced onion
½ tsp (2 mL) dried rosemary
Freshly ground black pepper
1. Mix together flour and salt. Whisk in water vigorously to avoid lumps and let set for 1 hour or overnight.

2. Preheat oven to 500ºF (260ºC).

3. Whisk batter again until about the consistency of table cream. Pour oil into an 8-inch (20-cm) nonstick pan and pour in the batter. Stir oil and batter together.

4. Sprinkle batter with onions. Place skillet in middle of oven and bake for 5 minutes. Add rosemary and bake 30 minutes or until golden brown and crisp. Remove from oven and let cool in pan. Serve warm or at room temperature, sprinkled with black pepper and drizzled with more oil if desired.
SHARE