Focaccia, Grape & Sausage Stuffing
Temps des Fêtes 2016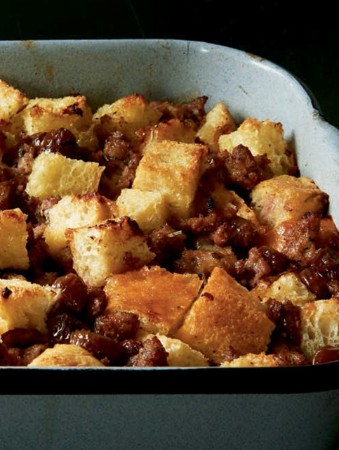 Focaccia, Grape & Sausage Stuffing
Temps des Fêtes 2016
BY: Christopher St. Onge
This dressing is inspired by the grape and onion focaccia at the superb Forno Cultura bakery in downtown Toronto. Here, widely available supermarket focaccia is tricked out with flavourful Italian sausage, caramelized onions and slow roasted red grapes—untraditional but utterly delicious. You should prep a couple of ingredients in advance to avoid a traffic jam in the oven and on the stovetop, but all is very straightforward.
1 lb (500 g) red grapes, halved, about 3 cups (750 mL)
5 tbsp (75 mL) olive oil, divided
¾ tsp (4 mL) salt, divided
2 tbsp (30 mL) unsalted butter
1 large onion, thinly sliced
1 lb (500 g) mild Italian sausage, removed from casings
1 loaf (390 g) day-old rosemary focaccia, cut into 1 inch (2.5 cm) cubes
2 tsp (10 mL) dried rosemary
1 tsp (5 mL) freshly ground black pepper
2 eggs
1½ cups (375 mL) chicken stock
1 Preheat oven to 275°F (140°C).

2 Toss grapes with 2 tbsp (30 mL) olive oil and ¼ tsp (1 mL) salt. Turn out onto a parchment-lined baking sheet and slow-roast for 2 hours; cool, cover and refrigerate until ready to bake stuffing (grapes may be made up to 3 days in advance).

3 While grapes are roasting, melt butter and 2 tbsp (30 mL) olive oil in a large skillet over medium-low. Once foaming, add onion, ¼ tsp (1 mL) salt, stir and cover for 5 minutes to wilt onion. Remove lid and continue to cook, stirring every 3 to 4 minutes, for 25 minutes longer or until onions are deeply caramelized. Cover and refrigerate until ready to proceed (onions may be made up to 3 days in advance).

4 When ready to finish stuffing, heat remaining 1 tbsp (15 mL) olive oil in a large skillet over medium heat; fry sausage, breaking apart with a fork, until no longer pink, about 5 minutes. Add to a large mixing bowl along with the prepared grapes, onions and the focaccia. Sprinkle rosemary, remaining ½ tsp (2 mL) salt and the black pepper overtop.

5 In a separate bowl, whisk together the eggs and stock; pour over bread mixture and toss to combine. Turn out into a 12-cup (3-L) ovenproof dish and bake in a 350°F (180°C) oven for 30 minutes or until top is golden and stuffing is hot.
SHARE