Fall Vegetable Risotto
Autumn 2002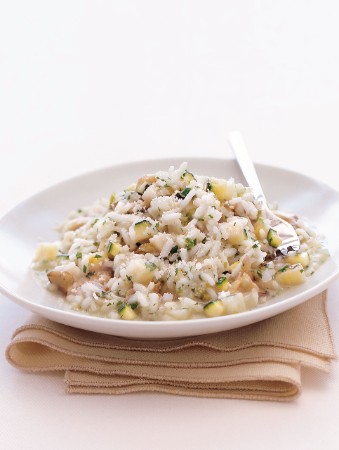 Fall Vegetable Risotto
Autumn 2002
BY: Lucy Waverman
The addition of celery root with the mushrooms gives this risotto extra layers of flavour. If celery root is unavailable substitute fennel.
Vegetables
½ cup (125 mL) peeled and chopped celery root,
cut into ¼-inch (5-mm) dice
2 tbsp (25 mL) unsalted butter
2 cups (500 mL) oyster mushrooms, torn into strips
¾ cup (175 mL) chopped zucchini, cut into ¼-inch (5-mm) dice
Salt and freshly ground pepper

Risotto
6 cups (1.5 L) chicken stock
3 tbsp (45 mL) unsalted butter
2 tbsp (25 mL) olive oil
½ cup (125 mL) finely chopped onion
2 tbsp (25 mL) coarsely chopped celery leaves
1 ½ cups (375 mL) Arborio rice
½ cup (125 mL) freshly grated Parmesan cheese
1 tbsp (15 mL) chopped parsley
1. Bring a pot of water to a boil. Add celery root and boil for 5 minutes or until crisp tender. Drain and reserve celery root.

2. Melt 2 tbsp (25 mL) of butter in a skillet over medium heat. Add mushrooms and cook until they begin to soften, about one minute. Add reserved celery root and zucchini and cook for 2 minutes. Season lightly with salt and pepper. Reserve in skillet.

3. Bring the stock to a simmer in a separate pot.

4. Add 2 tbsp (25 mL) butter and olive oil to a large pot on medium heat. Stir in onion and celery leaves and cook until onion becomes soft and translucent, about 3 to 4 minutes. Add the rice, stirring quickly and thoroughly until the grains are well coated.

5. Stir in ½ cup (125 mL) chicken stock, and cook, stirring, until the liquid is cooked down to the level of the rice. Add another ½ cup (125 mL) of stock and continue to cook the risotto, stirring every few minutes. Continue adding stock and stirring until rice still has a bit of bite in the centre, about 20 minutes.

6. Add reserved vegetables and a small amount of stock and continue to cook until the rice is tender but firm to the bite. There should be a little liquid left to act as a sauce.

7. Off the heat, add remaining 1 tbsp (15 mL) butter, 2 tbsp (25 mL) of the Parmesan and all of the parsley and stir thoroughly. Taste and correct for salt. Transfer to a platter, sprinkling with remaining Parmesan. Serve immediately.
SHARE