Falafel Cheeseburgers with Tzatziki
Early Summer 2011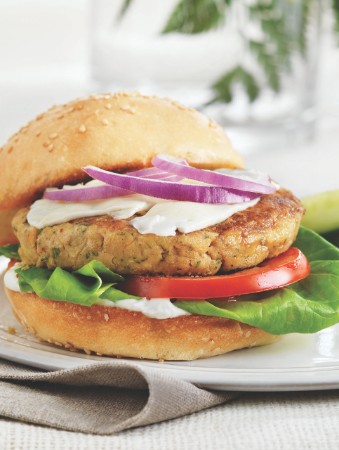 Falafel Cheeseburgers with Tzatziki
Early Summer 2011
BY: Julia Aitken
Traditional falafel might be a tasty snack, but the authentic deep-fried kind lose a few points nutrition-wise. Our lighter version cuts the fat and gives them a Western twist by tucking them into burger buns, along with halloumi, a fresh, firm-textured, mild cheese popular in Cyprus, Turkey, and the Middle East.
1 can (540 mL) chickpeas, rinsed and drained
¼ cup (50 mL) coarsely chopped fresh coriander leaves
3 tbsp (45 mL) olive oil
2 tbsp (25 mL) lemon juice
1 clove garlic, coarsely chopped
1 tsp (5 mL) ground coriander
1 tsp (5 mL) ground cumin
Generous pinch cayenne
Salt to taste
4 oz (125 g) halloumi cheese, thinly sliced
4 burger buns
½ cup (125 mL) tzatziki
4 Boston lettuce leaves
Sliced tomato, red onion and/or cucumber


1. Spread chickpeas out on a kitchen-towel-lined, rimmed baking sheet. Blot with another towel until very dry.

2. In a food processor, combine chickpeas, coriander leaves, 1 tbsp (15 mL) olive oil, lemon juice, garlic, coriander, cumin, and cayenne. Pulse until mixture forms a crumbly paste that holds together. Taste and add a little salt and more cayenne if necessary. Pulse again to combine.

3. Form mixture into 4 even-sized patties, about ½ inch (1 cm) thick. In a large nonstick skillet, heat remaining oil over medium heat. Add burgers and cook for 3 to 4 minutes or until golden brown on the undersides. Using an egg lifter, carefully turn burgers over. Top each with halloumi. Cook for 3 to 4 minutes or until burgers are golden brown and hot throughout, and cheese is starting to melt.

4. Meanwhile, split buns in half and toast until golden brown. Spread bottom half of each bun with tzatziki. Top with lettuce, and tomato, onion and/or cucumber. Place a falafel burger on each bun. Replace tops of buns and serve at once.


SHARE